At CES today LaCie announced "significant" updates for its LaCie Rugged and d2 computer storage solutions, beefing up each product with more speed, increased storage capacity, and better compatibility with modern computers, including Thunderbolt 3 on the LaCie d2.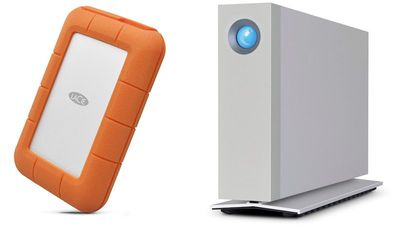 The updated LaCie Rugged Thunderbolt USB-C solution has support for USB 3.0-compatible computers, as well as models with USB-C and Thunderbolt 3, and includes an integrated Thunderbolt cable that works with both first-generation Thunderbolt and Thunderbolt 2. Capacity options are available up to 5TB, with included Seagate BarraCuda drives for speedy transfers. The top-of-the-line version includes a 1TB SSD and can deliver speeds of up to 510MB/s, which LaCie said is a 30 percent increase from the previous models.
The company also gave details on the new LaCie d2 Thunderbolt 3 storage solution, which it called "a great companion to limited-capacity SSD-based laptops and all-in-one computers." Specifically, LaCie mentioned that the accessory "performs great" on the new MacBook Pro line, and includes capacities up to 10TB with speeds up to 240MB/s, representing a 10 percent jump from the previous generation.

Featuring speeds of up to 240MB/s, a ten percent improvement over the previous generation, photographers can spend less time moving files from camera cards into Adobe Lightroom. Dual Thunderbolt 3 ports mean the user can daisy chain dual 4K displays, a single 5K display or up to six total LaCie d2 drives—all through a single cable connected to their computer.

It's even possible to power a compatible laptop such the latest MacBook Pro® through a USB-C port. That's one less cable cluttering up the desktop. The LaCie d2 is also backed by a five-year limited warranty, the most generous in the industry.
Beginning sometime in the first quarter of 2017, both the LaCie Rugged and LaCie d2 devices will be available for users to purchase worldwide. Starting at $249.99, the LaCie Rugged drive will come in 2TB, 4TB and 5TB HDD and 500GB and 1TB SSD capacities. The higher-tier LaCie d2 drive will start at $429.99 and will come in 6TB, 8TB and 10TB capacities.