Apple Pulls All Withings Accessories From Apple Online Store Following Nokia Lawsuit
In the wake of its legal dispute with Nokia, Apple has pulled all Withings-branded accessories from its online store and presumably from all of its retail stores around the world.
Apple appears to have pulled the accessories in the last day or two, eliminating Withings products like the Body Cardio Scale, the Smart Body Analyzer, and the Wireless Blood Pressure Monitor. When searching for these products on Apple's site, they are no longer listed as available for purchase.
Apple has stopped offering all Withings products because Withings is owned by Nokia following a spring 2016 purchase worth an estimated $192 million. The Withings brand has been integrated into Nokia's Digital Health unit and is led by Cedric Hutchings, formerly the CEO of Withings.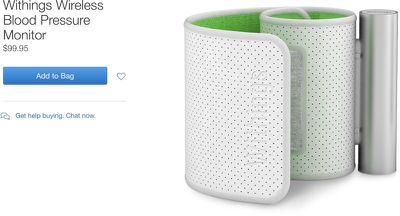 A cached version of the listing for the Withings Wireless Blood Pressure Monitor, no longer available from Apple.com


Earlier this week, Apple filed an antitrust lawsuit accusing Nokia and several patent assertion entities of illegally transferring patents to attempt to extort excessive royalty fees from the Cupertino company. Apple had established FRAND (Fair, Reasonable, and Non-Discriminatory) deals with Nokia, but by transferring patents to patent holding companies, additional royalties can be demanded.
In response, Nokia filed 40 patent infringement lawsuits against Apple across 11 countries, accusing the Cupertino company of failing to establish licensing deals for Nokia patents that cover displays, user interface, software, antenna, chipsets, and video coding.
According to Apple, Nokia has been conspiring with patent assertion entities (Acacia Research and Conversant Property Management) in an "illegal patent transfer scheme" to wring money out of Apple because Nokia's cell phone business is failing. Nokia, meanwhile, says that it has not been able to reach a licensing agreement with Apple and must defend its rights.