Apple has reportedly offered a three-digit million amount to acquire an underground bunker in Stuttgart that it wanted to convert into a retail outlet similar to its iconic New York 5th Avenue Store.
The city of Stuttgart is still without an Apple Store, with the nearest one in Sindelfingen about 12 miles away. Apple has reportedly been searching for a suitable retail home in the city for some time, having rejected various locations in recent years, including a planned move into the Milaneo shopping mall which the company is said to have pulled out of at the last minute.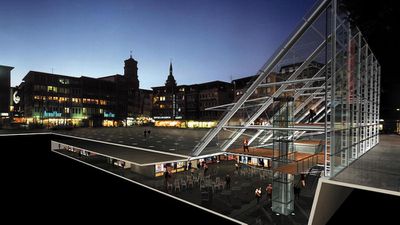 According to German tech site ifun.de, Apple's search for a home in the state capital even led to the company offering a "three-digit million amount" for a series of wartime bunker rooms under the Stuttgarter Market Square in the center of the city.
After the Second World War, the bunker system in question was used as a 100-bed hotel from 1945 to 1985. The Bunker Hotel had ventilation shafts instead of windows, and the rooms still exist to this day, but are reportedly dilapidated.
An architectural competition to make the bunker a public exhibit was announced in 1995 and the winning design by Neugebauer + Roesch Architect was a 31 meter-long and 14 meter-high glass prism as an entrance pavilion to underground stores, but the design was never realized because of lack of interest from the city administration.
The original architectural proposals fit Apple's portfolio of underground store, which typically involve a recognizable glass construction entrance leading to retail rooms below, as seen at the company's flagship 5th Avenue store in New York. However, the city administration are said to be reluctant to have an Apple logo-emblazoned edifice directly opposite the Stuttgart City Hall and have so far rejected Apple's large offer of money to acquire the location.
At least for now, Apple's search for a retail home in the the state capital of Baden-Württemberg appears set to continue.