As part of Apple's plans to expand its retail store presence in Germany, the company has been working on a store at a mall in Sindelfingen, just outside of Stuttgart. Last month, iFun.de reported [Google translation] reported that Apple was targeting Saturday, September 22 for the store's grand opening.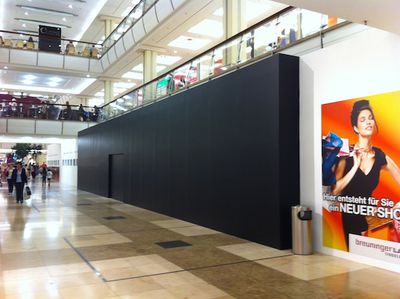 Apple's Sindelfingen retail store near Stuttgart under construction (Source: Macerkopf.de)
We've now heard from a source claiming that Apple has brought forward the opening date for the store to Thursday, September 20, potentially signaling that the next-generation iPhone will indeed launch the following day as has been rumored. Moving the grand opening forward by just a few days would enable Apple to have another retail store open to support the launch without requiring a significant change to store construction and preparation plans.
A similar change earlier this year signaled Apple's plans for the third-generation iPad launch, when the grand opening of the Highland Village retail store in Houston was brought forward by a day, suggesting that it would coincide with the March 16 iPad launch as did turn out to be the case. Apple's official announcement of the 8:00 AM grand opening for the store on that date also revealed the company's plans for the timing of the iPad launch.
Germany is typically included in Apple's first-round launches, although on some occasions such as with the iPad 2 the company has launched first in the United States before rolling out to other countries in the following weeks. iMore reported last month that Apple is planning for pre-orders to begin on September 12 ahead of the September 21 launch in the U.S. and perhaps other countries, with a second wave of international launches coming in the first week of October. If today's speculation bears out it would mean that Apple be including several other high-profile countries besides the U.S. in its first round of launches, with the second wave moving to quickly broaden distribution to other countries around the world.