iPhone 7 Tops Google's 2016 'Year in Search' Tech List, Loses to Pokémon Go in Overall Searches
Google has listed its annual "Year in Search" results, highlighting the most popular searches performed by people throughout 2016. As is usually the case, Apple-related search inquiries topped a few of the charts over the last twelve months, with Apple winning four total spots in the Consumer Tech category: the iPhone 7 topped the list ahead of the Freedom 251, iPhone SE, iPhone 6s, Google Pixel, Samsung Galaxy S7, iPhone 7 Plus, Galaxy Note7, Nintendo Switch, and Samsung J7.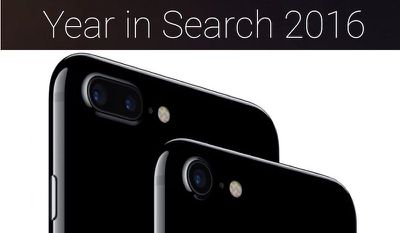 Last December, the iPhone 6s ranked #1 in the same category, with the Apple Watch coming in at a high point at #3. Apple's wearable was nowhere to be seen in the top Google tech searches in 2016, despite Apple launching the new Series 1 and Series 2 versions of the device.
In the Overall searches category, Pokémon Go came in first place in 2016 thanks to the height of its popularity and player base earlier in the summer, and the game's continued updates and additions throughout the fall. iPhone 7 ranked second behind Pokémon Go, and was the only Apple-related item to be listed in the section this year. Other popular search terms in 2016 were for Deadpool, the Olympics, Slither.io, Prince, David Bowie, and more.
Check out the rest of Google's Year in Search rankings
here
to discover the most popularly searched movies, news, tv shows, musicians, and more this past year.