Users Find Some New MacBook Pros Suffer From Major Graphics Issues
Since new MacBook Pro models launched last month, an increasing number of early adopters have reported serious graphics issues on Apple's latest notebooks. The glitches and other problems appear to be most prevalent on built-to-order 15-inch models, but standard 13-inch and 15-inch configurations are also affected.
MacRumors reader Jan Becker, for example, said the graphics began to glitch on his new high-end 15-inch MacBook Pro, equipped with built-to-order AMD Radeon Pro 460 graphics, while transcoding video with Adobe Media Encoder in Premiere Pro. The notebook subsequently crashed.
Becker claims when he took his MacBook Pro to an Apple retail store to be replaced, an employee said the graphics issues are likely a hardware problem. He later claimed he received a phone call from Apple's headquarters in Cupertino, California, where it allegedly has a team of engineers looking into the issues.
Apple called me from Cupertino. They put together a group of engineers to get to the root of this. I re-created the incident while I was on the phone with them and sent them the log files of the crash. They also want to "capture" my MacBook Pro with all the files on it to investigate more.
The most common symptoms reported by users include brightly colored flickering, full-screen checkerboard patterns, screen tearing, and other visual artifacts. Affected systems may subsequently experience unresponsiveness or a kernel panic, sometimes resulting in the MacBook Pro crashing.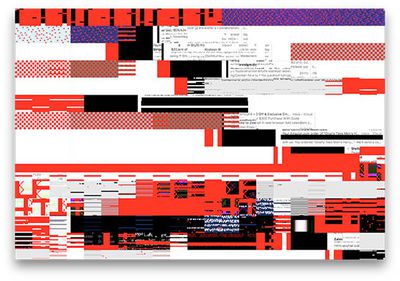 15-inch MacBook Pro with AMD Radeon Pro 460 graphics with full-screen visual artifacts
The high-end 15-inch MacBook Pro with Touch Bar and built-to-order AMD Radeon Pro 460 graphics appears to be most commonly afflicted, but several users have reported similar issues on 15-inch models equipped with standard AMD Radeon Pro 450 or AMD Radeon Pro 455 GPUs as well.
MacRumors reader Jayselle recorded his 15-inch MacBook Pro with AMD Radeon Pro 455 graphics flickering while connected to two external LG displays.
It is not entirely clear if the issues are a hardware or software problem. The graphics appear to act up most when users are completing intensive tasks, such as transcoding video with Adobe Media Encoder, syncing large photo libraries with Photos, or using other Adobe apps such as Photoshop and Lightroom.
It would initially seem the issue is limited to 15-inch MacBook Pro models with dedicated AMD graphics, but there are a few isolated reports of graphics issues on 13-inch models with integrated Intel Iris 540 and Intel Iris 550 graphics — including the new 13-inch MacBook Pro with a standard row of function keys.
User complaints extend to the
Apple Support Communities
and
other MacRumors discussion topics
, indicating the graphics issues are rather widespread, but not all users are affected. Some speculate the
latest macOS Sierra beta
may fix the issues, but evidence remains anecdotal.
Separately, a number of users are reporting brief glitches during the boot up process on new MacBook Pro models, particularly along the bottom of the screen. It appears this issue is related to FileVault 2 startup disk encryption, as the glitches go away for many of these users once the feature is disabled.


As insurance, Apple's extended holiday return policy is currently in effect. MacBook Pros purchased or delivered between November 10 and December 25 are eligible for return until January 8, 2017 in the United States, Australia, Canada, United Kingdom, France, Spain, Germany, and select other countries.
Select 2011-2013 MacBook Pro models have exhibited similar graphics issues in the past, including distorted video, no video, or unexpected system restarts. Apple accordingly launched a Repair Extension Program offering free repairs and refunds, but not before facing a class action lawsuit over the matter.
Apple appears to be aware of and is investigating these latest graphics issues, but it has yet to publicly comment on the matter. Apple been actively exchanging MacBook Pros for affected customers, according to users. Schedule a Genius Bar appointment or contact Apple Support to facilitate this process.