In a new article posted by The New York Times over the weekend, Apple's contributions to the United States workforce and economy are highlighted with a focus on the company's campus in Austin, Texas. Some of its 6,000 employees there (grown from 2,100 seven years ago) were interviewed, providing a glimpse into the employment lifestyle Apple offers its staff members.
The central occupation of the workers in Austin is customer tech support, but there's also employees who manage Apple's network of suppliers, run iTunes and the App Store, update Maps, and keep tabs on Apple's finances. The average income for a call center worker at the Austin campus is $30,000 a year, but following the completion of a one-year contract many become permanent employees and earn $45,000 per year, "plus generous benefits and small annual stock grants."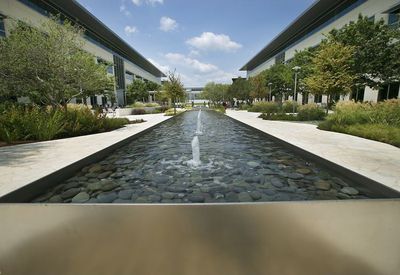 According to Apple, factoring in senior management staff, the average salary of its Austin staff is $77,000 a year. Although the company didn't tell The New York Times any of its future expansion plans for the U.S., it reiterated on its contributions to the country's workforce, with the iPhone as a launch pad for its employment boost.

"Apple has created over two million jobs in the United States since the introduction of the iPhone nine years ago, including explosive growth in iOS developers, thousands of new supplier and manufacturing partners, and a 400 percent increase in our employee teams," the company said in a statement. "We made the unique decision to keep and expand our contact centers for customers in the Americas in the United States, and Austin is home to many of those employees. We plan to continue to invest and grow across the U.S."
In the call center, the entry-level positions open up major possibilities for quality workers later on. One worker, Genny Lopez, began as a basic contractor answering customer calls, and is now on staff fielding and troubleshooting more difficult problems. "You don't need a crazy technical background to do this job," Lopez said. "A lot of the training is getting really good at talking to people."
In Austin, Apple is also said to encourage employees to test out other team environments, "to allow workers to try a completely different role for six months to see if it suits them and the company." The New York Times met with Brisa Carillo, who was one of the test pilots for the team-switching idea, and found out that she began work at Apple in its call center right after college, but now handles the company's international payroll while she studies for her M.B.A. to continue to move up the ranks of Apple's finance department. A formal program backing the progressive idea is on track to be instituted soon.

Image via The New York Times
Apple prides itself on providing top-notch phone service in 26 languages — 12 are spoken at the Texas call center alone — and the people who handle the calls are expected to follow up on any problem that cannot be quickly resolved. During the recent visit, Stephanie Dumareille, a senior adviser on iOS issues who is fluent in English and Spanish, patiently answered questions from a customer who was worried about saving her résumé online and did not know whether she was using a Windows or a Mac computer.
Much of The New York Times' article is a response to critics, including President-elect Donald Trump, who believe Apple should move its manufacturing plants into the United States to improve its contribution to jobs within the country. A report from last week claimed that Apple asked both Foxconn and Pegatron to look into making iPhones stateside, a request which Foxconn is allegedly studying closely.
Apple's investment in and nurturing of its employees makes up for its lack of product manufacturing stateside, according to Lopez, who said that at the Austin campus "the product that Apple builds here is us."
Check out the full story by The New York Times here.