Future iPhones Could Be 'Made in America' as Apple Asks Foxconn to Consider U.S. Manufacturing
Apple manufacturing partner Foxconn has been studying the possibility of moving iPhone production to the United States, according to Japanese website Nikkei Asian Review, leading to hopeful speculation some iPhones could one day be "Made in America" rather than be assembled and imported from China.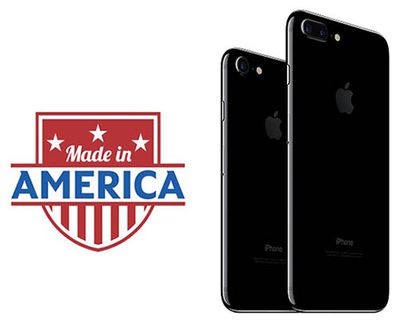 The report claims Apple asked both Foxconn and rival supplier Pegatron, which denied the request, to look into making iPhones stateside, although Foxconn chairman Terry Gou is said to be less enthusiastic about the idea due to inevitably higher production costs in the United States compared to China.
"Apple asked both Foxconn and Pegatron, the two iPhone assemblers, in June to look into making iPhones in the U.S.," a source said. "Foxconn complied, while Pegatron declined to formulate such a plan due to cost concerns."
In a speech at Liberty University in Virginia earlier this year, President-elect Donald Trump said "we're going to get Apple to start building their damn computers and things in this country instead of in other countries," while he has also threatened to introduce a 45% tax on products imported from China.
Apple CEO Tim Cook previously told 60 Minutes it manufactures iPhones in China because of "skill," not lower wages. Cook said China has put an "enormous force on manufacturing," adding that the U.S. workforce has a smaller number of individuals with the "vocational kind of skills" needed.
China put an enormous focus on manufacturing. In what we would call, you and I would call vocational kind of skills. The U.S., over time, began to stop having as many vocational kind of skills. I mean, you can take every tool and die maker in the United States and probably put them in a room that we're currently sitting in. In China, you would have to have multiple football fields.
Meanwhile, an industry executive told Nikkei the U.S. does not have the "cluster of suppliers" needed to manufacture iPhones. In Asia, Taiwan's TSMC makes A-series chips for iPhones, Japan's Sharp and Japan Display supply iPhone displays, and South Korea's SK Hynix and Japan's Toshiba produce memory chips for the device.
"To make iPhones, there will need to be a cluster of suppliers in the same place, which the U.S. does not have at the moment," the executive said. "Even if Trump imposes a 45% tariff, it is still possible that manufacturers will decide to continue production overseas as long as the costs together with the tariffs are lower than the amount they need to spend on building and running production lines in the U.S."
U.S. manufacturing would inevitably raise concerns about Apple's profit margins and, in turn, how much the iPhone costs for customers. iPhone 7 component costs are estimated to start at $220, compared to a base price of $649, although Cook has previously dismissed third-party cost estimates as being highly inaccurate.
TSMC and Sharp have acknowledged that while U.S. manufacturing would prove more expensive, the companies would certainly consider the move over losing a major customer such as Apple. But, for now, the idea likely remains a stretch even in light of new political pressures.
Note: Due to the political nature of the discussion regarding this topic, the discussion thread is located in our Politics, Religion, Social Issues forum. All forum members and site visitors are welcome to read and follow the thread, but posting is limited to forum members with at least 100 posts.