Apple design chief Jony Ive and longtime collaborator Marc Newson's take on the London hotel Claridge's Christmas tree has been revealed – and perhaps not surprisingly, there's not a bauble in sight.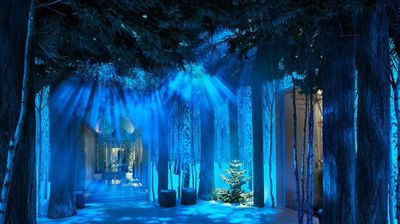 Mayfair's landmark festive tree has been drawing crowds since 2009, when notable designers began creating the seasonal decoration each year. But Ive and Newson's interpretation takes the tradition to another level – albeit a minimalist one – by transforming the hotel's lobby into a natural grove of unadorned birch trees as part of a living light and sound installation. The designers had this to say:

Our aim was to create an all-enveloping magical experience that celebrates our enormous respect for tradition while recognising our excitement about the future and things to come. There are few things more pure and beautiful than nature, so that was our starting point, layering various iterations of organic forms with technology.
Design and style magazine Wallpaper described a scene in which a series of vast four meter-high light boxes line the walls, illuminating black-and-white images of snow-capped silver birch trees, against which "towering cast models of Scots pine rise to a canopy of natural green pine".
The accompanying forest soundscape begins with a dawn chorus and features owls, nightingales, sparrows, and foxes. Synced to the audio is specially choreographed lighting that cycles from sunrise to nighttime, creating a dappled effect in the installation space. At the center of the grove, a smaller sapling tree appears to grow in the transitions of light, which the designers describe as a symbol of the future.
The installation is open to the public and free to enter, and will remain in London's Claridge's hotel throughout the festive season.