Revamped Google Play Music Streams Content Based on User Location, Activity, and Time of Day
Google today announced an overhaul of its Google Play Music streaming platform, with new contextually aware, opt-in music recommendation features that promise a more personal music listening experience.
Building on its stated aim of helping users find the right music for any moment, Google says the fresh take on its streaming service is "smarter, easier to use, and much more assistive", thanks in large part to deeper integration with machine learning technology that allows it to offer content based on user location, time of day, current activity, and music preferences.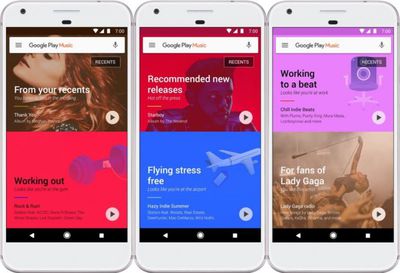 Central to the overhaul is a redesigned home screen that Google likens to "the ultimate personal DJ", which learns what you like to listen to and when you like to listen to it, presenting content accordingly. Examples include suggesting a users' workout playlist when they arrive at the gym, offering music for unwinding after a day at the office, and recommending additional songs from new artists the user has previously expressed an interest in.

To provide even richer music recommendations based on Google's understanding of your world, we've plugged into the contextual tools that power Google products. When you opt in, we'll deliver personalized music based on where you are and why you are listening — relaxing at home, powering through at work, commuting, flying, exploring new cities, heading out on the town, and everything in between. Your workout music is front and center as you walk into the gym, a sunset soundtrack appears just as the sky goes pink, and tunes for focusing turn up at the library.
In addition to the new opt-in personalization features, the overhauled service also includes a new regularly updated offline playlist based on what users listened to recently, enabling subscribers to listen to their favorite music even if they lose their connection.
Powered by the company's machine learning systems and teams of human curators, Google promises the experience will "keep evolving" and improve the more it's used, whether that's through the company's recently launched Google Home smart speaker, on Chromecast devices such as the new 4K Chromecast Ultra, or its Google Pixel smartphones, which were unveiled last month.
The price of Google Play Music remains $9.99 per month and the company says it's rolling out the revamped service globally this week across iOS, Android, and the web.