New MacBook Pro Reviews Mixed as Touch Bar Called Everything From 'Useful' to 'Gimmick'
Apple has started shipping its new MacBook Pro with Touch Bar to customers just as reviews of the all-new 13-inch and 15-inch notebooks are hitting the web. The reviews provide a closer look at the Touch Bar and whether or not the new MacBook Pro is a suitable upgrade for those with older models.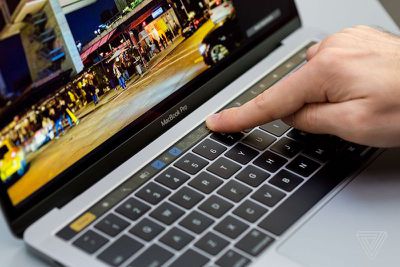 The new MacBook Pro's headline feature is the Touch Bar (Image: The Verge)
Andrew Cunningham at
Ars Technica
said he "liked the Touch Bar a lot," calling it "more convenient to use" than a traditional row of function keys. However, he noted the Touch Bar's usefulness depends entirely on the apps you use and, to a lesser extent, how you use your computer.
If you primarily use the MacBook Pro with a Thunderbolt Display and keyboard, for example, he said the Touch Bar will "do nothing for you."
If it's being used as a desktop with an external keyboard a significant amount of the time, the Touch Bar does nothing for you. When I went out of my way to use Apple's apps, I liked the Touch Bar a lot. It just takes one or two useful buttons—creating a new tab in Safari, looking up a main page in Terminal, changing font sizes or creating checklists in Notes—to make you glad the Touch Bar is there. However, a typical day for me is spent mostly in Word, Outlook, Slack, Tweetbot, and Chrome. Microsoft is bringing Touch Bar support to Office, but if other app makers don't start adding in support, a big chunk of that bar is going to end up sitting empty most of the time.
Cunningham noted the Touch Bar's display dims after 60 seconds and turns off completely after 85 seconds to preserve battery life. You can tap the Touch Bar, the keyboard, or the trackpad to wake it back up. He said there is no option to change this behavior in System Preferences.
Confirming our report last month, Cunningham said the Touch Bar displays a standard row of function keys when running Windows through Boot Camp. When running Linux, however, he said the basic function keys available in Windows don't appear until the Boot Camp installer has installed all the necessary drivers.
Cunningham believes the new MacBook Pro is "just about worth the wait" for those with an older model from 2012 or earlier, but conversely said there is "very little reason to consider" upgrading if you have a model from 2013 or later, given Intel processor improvements that "barely push performance forward."
He criticized the Touch Bar-equipped MacBook Pro lineup as being "expensive, even for Macs," with significantly cheaper premium PCs available.
The main problem at this point isn't that the Touch Bar is a bad idea, but that these laptops cost a whole bunch of money. Great, premium PC laptops are available for half this price, even if Apple still maintains an edge when it comes to graphics and SSD speeds. It really feels like the Touch Bar needs to be included in the $1,499 model, and that versions of the new designs without Touch Bars should be the entry level systems—right now, Apple's entry-level Mac laptops were all released in mid 2015, and that's only going to get more embarrassing as time moves on.
Dana Wollman at Engadget said the Touch Bar is "occasionally useful" for tasks such as switching between open tabs in Safari. However, she noted common system controls such as volume and brightness are now buried within menus, a change that is "less efficient" than dedicated function keys on older MacBook Pro models.
What's annoying about this whole setup is that either way, some of the most important system controls are now buried in Touch Bar menus. Want to lower the volume? You can either hit the volume icon and hit the slider, or hit the arrow key and tap the volume up or down key. That's less efficient than just pressing a dedicated volume button in the function row. It's inconvenient enough that I eventually started using my mouse to do things like pause Spotify or raise the volume on a track. Apple made me change my way of doing things, and not necessarily for the better. That pisses me off.
Not all reviews of the Touch Bar have been favorable. Christina Warren at Gizmodo said the feature is a "gimmick" that's "not worth the money" yet.
In the end, real story with the MacBook Pro is the Touch Bar. It's somewhat useful, but it's still so undersupported for apps beyond Apple's that, at least for right now, the Touch Bar is not reason enough to get a new MacBook Pro. Particularly if you're already satisfied with the performance of your existing machine. If you need a new MacBook Pro and you can't wait for the Kaby Lake refreshes already rumored, the benefits of the internal specs matched with the cool-factor of the Touch Bar make this a good Mac. For everyone else this is a gimmick on a very good, way too expensive laptop.
Dan Ackerman at CNET disagreed with those calling the Touch Bar a "gimmick," noting he very quickly found several shortcuts he used instinctively.
Some who've seen the Touch Bar only from afar call it a gimmick, but I almost immediately started finding little things it did better than traditional keyboard and touchpad input, and after a very short time I was using a handful of these Touch Bar functions instinctively, without even thinking about it.

If you spend a bit of time trying it out in different apps, you'll end up with maybe a half-dozen or so shortcuts you love the Touch Bar for, while your computing experience remains otherwise unchanged.
Most other reviews generally recommend the new MacBook Pro, but reflect upon a series of compromises that customers may have to deal with, such as a lack of ports and a new keyboard with slimmer key travel. For those committed to the Mac that can justify the price tag, the new MacBook Pro is a mostly worthwhile upgrade.
Other Reviews: TechCrunch, Mashable, The Wall Street Journal, The New York Times, SlashGear, The Verge, CNET, USA Today and Fast Company