Apple Releases Updated Version of iOS 10.1.1
Apple today seeded a minor version change to iOS 10.1.1, the current version of the iOS 10 operating system. The update is minor enough that it did not warrant a full 10.x.x number change, but it does include an updated build number.
iOS 10.1.1 being released today has a build number of 14B150, while the initial iOS 10.1.1 release, which came on October 31, had a build number of 14B100.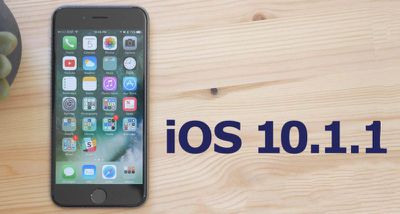 The new build of iOS 10.1.1 is only available as a download from Apple's servers and cannot be obtained over-the-air at this time for those who have already installed the first version of iOS 10.1.1. The new version of iOS 10.1.1 will likely be provided to those who have yet to install iOS 10.1.1, as it otherwise requires an iTunes connection to obtain.
There is no new information in the changelog for the updated build, so it is unclear what minor bug fixes or changes it brings.
The first version of iOS 10.1.1 fixed a bug that caused Health data to be unavailable for some users. A minor update, iOS 10.1.1 was released shortly after iOS 10.1, a more significant update that brought a new "Portrait" mode and dozens of bug fixes and feature improvements.