Apple Launches 'Apple Support' iOS App in Netherlands
Apple today released a specialized Apple Support app in the Netherlands, which is designed to give iOS users another way to get support for their Apple devices.
The app closely mimics the design of Apple's dedicated support website, providing a list of the products owned by each user along with options for scheduling repairs in an Apple Store or chatting with Apple's support staff. It also has a section for recent repair requests and other information related to Apple product maintenance.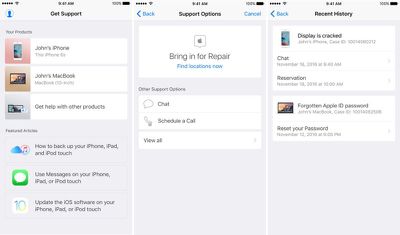 Need help? Apple Support app is your personalized guide to the best options from Apple. Find answers with articles tailored to your products and questions. Call, chat or email with an expert right away, or schedule a callback when it's convenient. Get a repair at an Apple Store or a nearby Apple Authorized Service Provider. Apple Support is here to help.
Apple Support appears to be limited to the Netherlands at this time, but Apple may be testing it in a single market before opting to roll it out to other countries. Rumors late last year suggested a support app was in the works, but it wasn't clear at the time if it would be a standalone app or something built into an existing app.