Apple Developing Support iOS App to Streamline Repair and Troubleshooting Process
Apple appears to be working on an iOS app that will provide customers with easy access to Apple support staff, troubleshooting tips, and repair options for their iPhones, iPads, and other Apple devices. A series of screenshots of the app were provided by Sonny Dickson to uSwitch Tech, revealing key details about the app and what it's capable of.
There are direct options for chatting with an advisor, scheduling an in-store visit (which lists the next available appointment at a local Apple Store), and sending a device in for service, along with a list of support documents and guides to solve common problems like using iTunes to do a restore, maximizing battery life, or upgrading to the latest version of iOS.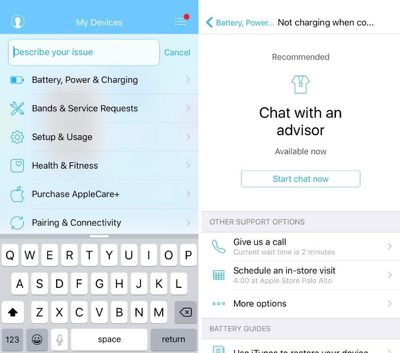 According to an "insider," the app is tied to an Apple ID and will automatically list all of the devices that each person owns, giving them direct access to pre-defined troubleshooting problems, much like Apple's support site does now. From there, it walks users through all of the available support options. It's said to be "highly interactive and well integrated."
Having a centralized spot to access support documents and repair options will be hugely useful for many users who may not know the extent of Apple's online support offerings. The app will also further streamline the repair and support process, taking some of the pressure off of in-store Genius employees who work on repairs and potentially cutting down on the number of people coming in to the store for small issues.
It is not clear if the app is a standalone support app that will be added to iOS devices in the future or if this is functionality that will be incorporated into the existing Apple Store app. At this time, the Apple Store app has limited functionality when it comes to support, only allowing users to schedule appointments with Geniuses at their local Apple Stores.