Future MacBooks Said to Adopt Brighter OLED Displays That Consume Less Battery Life
Apple is looking to use OLED displays rather than current LCD technology for its future MacBook series, according to Korean website ETNews.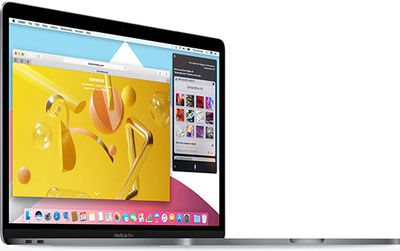 The report, citing unnamed sources, said Apple is currently looking into ways of using OLED displays for MacBooks and testing their performance. It does not provide a timeline as to when Apple might release its first OLED-based MacBook.
The switch to OLED technology could have several benefits for future MacBooks, including lower power consumption for longer battery life. OLED panels are often thinner, too, which could allow for a slimmer and lighter MacBook design.
Other potential advantages of OLEDs include increased brightness, sharper colors, and faster response times compared to LCDs.
The report said Apple is actively expanding uses of OLED displays for its major products, one of which is widely rumored to be the iPhone starting next year.
Apple already has experience using OLED displays in limited applications, including the Apple Watch and the new MacBook Pro's Touch Bar, but adapting the technology to larger screens can pose manufacturing challenges.
Today's report pegged Samsung as Apple's supplier of Touch Bar panels, and that partnership could extend to MacBook displays in the future.
KGI Securities analyst Ming-Chi Kuo yesterday said Apple will release new MacBooks in the second half of 2017. New and existing notebooks are said to receive price cuts, while adoption of Intel's Cannonlake processors if readied could allow for up to 32GB of RAM versus the max 16GB of RAM in current models.