Following the launch of the new MacBook Pro with four Thunderbolt 3 ports, LaCie has introduced its new lineup of Thunderbolt 3 storage solutions: the Bolt3 desktop drive and the enterprise-class 6big and 12big RAIDs.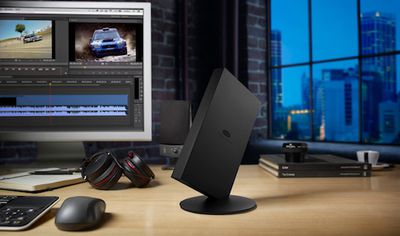 LaCie's new Bolt3 desktop drive with Thunderbolt 3
LaCie's Bolt3 combines dual Thunderbolt 3 ports with a pair of the latest M.2 PCIe SSDs, striped together into a 2TB volume, to create the "world's fastest desktop drive," with speeds up to 2800MB/s for 4K-6K video editing.
That kind of speed slashes time off nearly every task in your post-production workflow. Ingest RAW footage from RED® or Blackmagic® cinema cameras in a fraction of the time. Transcode 4/5/6K footage much faster using Adobe® Premiere® Pro or DaVinci Resolve. Then transfer a terabyte of footage from the Bolt3 to RAID storage—such as the LaCie 12big Thunderbolt 3—in minutes instead of hours.
Thunderbolt 3 permits daisy chaining and provides twice the video bandwidth of any other cable, meaning you can daisy chain one USB-C or up to five Thunderbolt 3 devices, or connect dual 4K displays, through a single USB-C cable.


The Bolt3 is designed with an aluminum enclosure featuring a magnetic cable door and display stand to place it upright on a desktop. Included in the box is a Thunderbolt 3/USB-C cable, power supply, cleaning cloth, and quick install guide.
LaCie's 6big features up to 60TB of storage and Thunderbolt 3 speeds up to 1400MB/s, while the 12big is available with up to 120TB of storage and delivers speeds up to 2600MB/s — up to 2400MB/s in RAID 5.
Both enterprise-class RAID storage solutions feature support for hardware RAID 5/6 and have 7200RPM Seagate enterprise-class hard drives with 256MB cache. Thunderbolt 3 lets users daisy chain dual 4K displays or a single 5K display to the 6big and 12big.

LaCie's new 6big RAID storage solution — the 12big is twice as tall
The LaCie Bolt3 will come in a 2TB SSD capacity for $1999.00. The LaCie 6big will come in 24TB, 36TB, 48TB, and 60TB capacities starting at $3199.00. The LaCie 12big will come in 48TB, 72TB, 96TB, and 120TB capacities starting at $6399.00.
The trio of storage solutions will be available at LaCie resellers this quarter.