Apple Unveils New 13-Inch Entry-Level MacBook Pro
Today at its October 2016 Town Hall event, Apple announced an entry-level 13-inch MacBook Pro that it is positioning as an appealing alternative for potential buyers of the MacBook Air, the 13-inch version of which remains available to buy for now, with the 11-inch version being discontinued.
The new entry-level Pro takes on many of the design features of the rest of the range, except for Apple's new Touch Bar, which replaces the traditional function key strip in the rest of its new Pro MacBooks.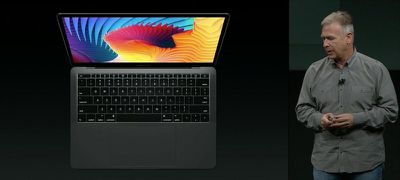 The new entry-level MacBook Pro is 12 percent thinner than the current MacBook Air. It's also 13 percent smaller in volume, while staying the same weight.
Apple's senior VP Phil Schiller says the new entry-level MacBook Pro is faster than the MacBook Air in "every way." It has a 2.0GHz Intel Core i5 processor, 8GB RAM, a 256GB SSD, Intel Iris 540 Graphics, a larger Force Touch trackpad, two Thunderbolt 3 ports, and a new second-generation butterfly mechanism keyboard.
The entry-level MacBook ships starting today and is available starting at $1,499. In contrast, the existing MacBook Air with 1.6GHz processor and 128GB storage and is still available at $999. The new entry-level 13-inch MacBook Pro can be pre-ordered online now and will ship in 2-3 weeks.