Apple announced a new Retina display 'Touch Bar' replacing the function key strip on the keyboards of its two top-tier MacBook Pro notebooks at its "Hello again" event today.
Apple software engineer Craig Federighi showed off the customizable sapphire crystal Touch Bar in action, which can also be used as a traditional Function key set and supports a host of native and third-party apps.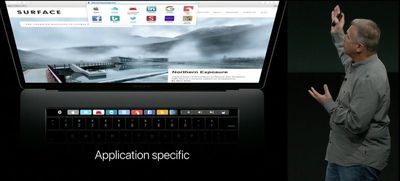 Apple says the Touch ID component in the Touch Bar features an Apple T1 chip with a secure enclave for security purposes.
The Touch ID sensor recognizes account holders instantly and also supports account switching. System controls can be used and they also support gestures and swipes for controlling brightness, for example.
Contextual controls in apps are fully supported. For example, the Mail app gains Touch Bar controls for composing messages, replying, flagging, filing, and formatting options.
When composing, Quick Type options like in iOS appear on the bar, with like Siri predictions. Emojis are also displayed in the Messages app: browsing emojis by frequently used or by category can be achieved with simple swipes.
Naviagation in and between apps is also included. The touch bar can be used to move between tabs, previews, previews. and opening new tabs with favorites ready to select.
Lastly, Final Cut Pro, Photoshop, and Photos are also supported - users can use Photoshop tools, swipe through photo collections, and use playback controls when viewing photos and editing videos.