Apple Drops 'Store' From Apple Store Branding
Apple appears to be making a slight branding change to its retail business, dropping the "Store" moniker when referring to its Apple Store locations. Apple has already made the change online, and all of its store pages now refer to stores by names like "Apple Union Square" or "Apple Valley Fair" or "Apple The Grove," instead of "Apple Store, Valley Fair" or "Apple Store, The Grove."
It's a change that appears to have started rolling out with the launch of the newer Apple Stores, like the Union Square location in San Francisco. Apple has always referred to that store as just Apple Union Square, and over the course of the last few days, the company has updated all of its retail store webpages to remove the "Store" branding. What was once "Apple Store, Fifth Avenue," for example, is now just "Apple Fifth Avenue."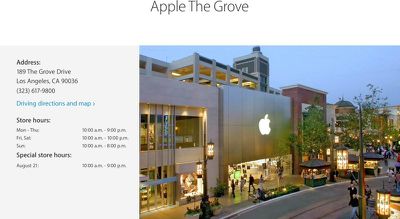 The new website for The Grove Apple Store


An archived page for the Fifth Avenue Apple Store has the older branding as of August 12, suggesting this is a fairly recent change to Apple's retail plan.

The old website for The Grove Apple Store


Apple also recently sent out a memo to its retail employees, letting them know that the "Store" branding is gradually being dropped from both retail locations and online. While Apple told employees the change will be gradual and will start with new stores, pages for almost all stores have been updated to remove the "Store" titling.
The decision to remove the "Store" portion of Apple's line of retail locations likely has to do with efforts to turn newer stores into more than just simple stores, positioning them as gathering places for their communities. Apple Union Square, for example, features an outdoor plaza with regular acoustic performances and a 6K video wall with seating called "The Forum," aimed at allowing artists, photographers, and musicians to inspire and educate customers through year-round programs, events, and classes.