Apple Music Beats Spotify, Pandora, and Others in J.D. Power Customer Satisfaction Study
Apple Music has been ranked the highest in overall customer satisfaction among seven streaming music brands that were compared in a new study by J.D. Power. Based on 4,482 individuals who have paid for a subscription music service in the last six months, J.D. Power's inaugural music study measured six key areas in each service: performance and reliability, ease of use, cost of service, content, communication, and customer service.
Based on a 1,000 point scale, Apple Music ranked highest with a score of 834, followed by Rhapsody (826), Pandora (825), and Spotify (824), while the industry average was ranked as 822. Apple Music earned five out of five total "power circle" marks in three categories, meaning it's "among the best" in content, performance and reliability, and ease of use. The service earned four out of five power circles in cost of service, communication, and customer service, earning it a "better than most" descriptor in these areas.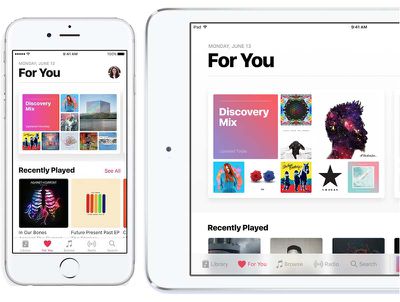 "The streaming music customer experience appears to be affected by a number of dimensions, including paid vs. free streaming, device choice and content selection," said Kirk Parsons, senior director and technology, media & telecom practice leader at J.D. Power. "The key to success, however, is increasingly becoming how well streaming music brands create a viable music ecosystem that can not only support multiple types of devices, but also facilitate listeners' social sharing and following of playlists with others."
J.D. Power discovered a few key findings in its study, including a direct correlation between paid streaming services and higher customer satisfaction. These premium services earned a 19 point advantage over freemium options, specifically excelling in the customer service and communication categories. Streaming services that support peripheral devices -- like smartwatches, home automation controllers, and virtual reality -- also saw higher satisfaction over services that don't offer these alternative music streaming methods.
An interesting sticking point in the music streaming conversation lately, J.D. Power found that exclusive content "improves customer advocacy." In total, 74 percent of people who stream these exclusive tracks said they "definitely will" recommend their service, in comparison to 54 percent of people who do not listen to exclusive music but would also recommend their streaming platform to a friend.

A detailed look at the performance of each service in the six categories can be found here
Ultimately, J.D. Power found that the "social" aspect of each service is what seems to be driving activity, with "fully engaged" listeners who share and consume the playlists of other users among the most satisfied customers. Passive listeners (who don't share their content or listen to other users' content) account for the largest piece of the streaming industry at 44 percent, followed by fully engaged listeners at 29 percent, followers at 22 percent (those who don't share their music, but consume content of others), and finally sharers at 5 percent (the inverse of followers).
In the bottom spots of the study are TuneIn, Amazon Prime Music, and Google Music, with all three ranking between average and poor in the content and ease of use categories. With streaming services here to stay, more companies are planning to introduce Apple Music and Spotify-like music on demand competitors instead of focusing on free radio streaming options.
The most recent measure of Apple Music had the service topping 17 million subscribers and continuing to grow at a steady rate. Despite J.D. Power's discovery that exclusive content is generating user advocacy for each service that supports it, Apple Music has found itself in hot water lately because of its reliance on such tactics.