A few shows on The CW have begun tweeting out a confirmation that the network's Apple TV app will arrive sometime "next week," along with apps on Roku, Chromecast, Xbox, and Amazon Fire TV (via iDigitalTimes). The hint of an incoming Apple TV app was discovered last week, but an official Apple TV app for The CW -- and not just the clip-based "Seed" platform -- has been in the works for over three years. The Apple TV app will also support AirPlay.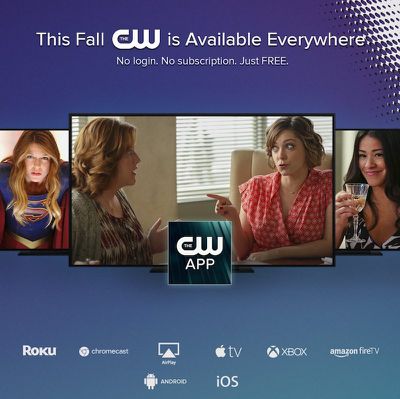 "Every show on The CW" will be available to watch on the app, which will also be free and require no login or cable subscription to access its content. Previously, The CW shows premiered on Hulu the day after they aired, but a
new deal with Netflix
will have entire seasons available to stream a few days after season finales air. That still left viewers without a cable subscription, who prefer to keep up with a show weekly, out to dry.
The new app should help alleviate that problem, since all of its biggest shows will be available to watch, including Supergirl, The Flash, Jane The Virgin, Arrow, Crazy Ex-Girlfriend, iZombie, Supernatural, DC's Legends of Tomorrow, The 100 and The Originals. Catching up on previous seasons won't be the focus of The CW's app, however, as it appears only the "latest episodes" will be showcased.
Users interested can opt in to be notified when the Apple TV app becomes available to download through a form on The CW's website.