Norway-based company Opera Software has brought its VPN feature to the masses with the release of Opera 40 desktop browser for Mac.
For those unfamiliar with the technology, a VPN creates an encrypted tunnel from the user's computer to the VPN server, which hides browsing activity from other users on the local network and enhances security and privacy online. It shields a user's real IP address, allowing them to bypass firewalls, block tracking cookies, and access geo-restricted content regardless of their true location.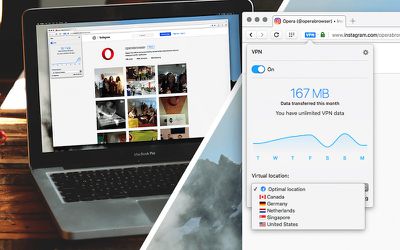 "If people knew how the internet truly works, I believe they all would use a VPN," said Krystian Kolondra, SVP of Opera browser for desktops, in a blog post. "By making our browser VPN free and easy to use, we hope to make it an essential tool, just as the lock and key is to your house."

We know that people are concerned about their privacy online and that the interest for VPN is increasing. However, two major obstacles are blocking people from using it: VPNs are too complicated to use, and they require a monthly subscription. Opera resolves both issues by introducing its free and easy-to-use service right into the browser.
Opera's VPN supports AES-256 encryption and auto-selects the best server to route users' traffic through, based on speed, latency, and traffic congestion. Currently the service has server locations in the U.S., Canada, Germany, Singapore, and the Netherlands.
VPNs typically come in the form of separate plug-ins or client apps, making Opera one the first major browsers to include one as standard. The feature comes after the company's acquisition of U.S. VPN company SurfEasy last March. Opera has been testing the VPN in developer betas since April, and says that neither it nor SurfEasy logs any information about a user's browsing history.
Opera 40 also includes an automatic battery saving feature, Chromecast support, video pop-outs, a newsreader with RSS support, built-in ad-blocking, and an overhauled browser engine.
The Norwegian firm is on the verge of a $600 million deal with a Chinese consortium which will transfer ownership of its apps to a group that includes anti-virus company Qihoo 360.
Users can download Opera 40 browser from the company's website.