Norway-based company Opera Software has integrated a virtual private network (VPN) feature into the latest developer version of its free Opera web browser for OS X.
A VPN creates an encrypted tunnel from the user's computer to the VPN server, hiding browsing activity from other users on the local network and enhancing security and privacy online. A VPN shields a user's real IP address, allowing them to bypass firewalls, block tracking cookies, and access geo-restricted content regardless of their true location.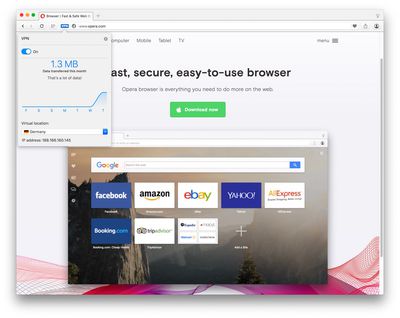 VPNs usually come in the form of separate plug-ins or apps that require a paid subscription, making Opera one the first major browsers to include one as standard. The launch of the feature comes after Opera's acquisition of U.S. VPN company SurfEasy last March.
Currently Opera's built-in VPN allows users to choose virtual locations in the US, Canada, and Germany. Opera says more countries will be available when the feature makes it to the stable public release of the browser.
Mac users can download
Opera 38 developer release
and give the free, unlimited VPN a try. After installation, simply click "Opera" in the menu bar, select "Preferences" and toggle the VPN switch on.
According to Global Web Index, more than half a billion people (24 percent of the world's online population) have tried or are currently using VPN services. According to the research, the primary reasons people use a VPN are for better access to entertainment content, browser anonymity, and the ability to access sites restricted by their workplace or country.
In January, Netflix began blocking users who try to bypass country-based content restrictions by using a VPN. Canadian subscribers to the streaming service appear to have been the latest targets of the crackdown after VPN-tunnelled users in the country began seeing error messages on their screens over the weekend when trying to access the service's much larger U.S. catalogue of movies and TV series.