Apple Releases macOS Sierra With Siri, Apple Pay, Apple Watch Unlock, Universal Clipboard, and More
Apple today released macOS Sierra to the public, making the latest Mac operating system available for free to all Mac users around the world. Apple seeded eight betas of macOS Sierra and multiple versions of the golden master before its official launch.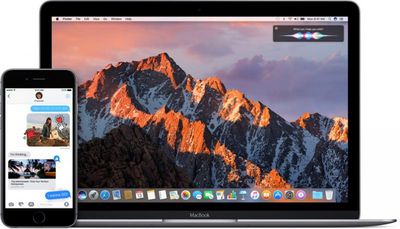 macOS Sierra can be downloaded directly from the Mac App Store, and Apple should begin offering it through the Software Update function shortly. It's compatible with the following Macs:
2009 and Later
- iMac (Late 2009)
- MacBook (Late 2009)
2010 and Later
- MacBook Air (Late 2010)
- MacBook Pro (Mid 2010)
- Mac mini (Mid 2010)
- Mac Pro (Mid 2010)
macOS Sierra (10.12), which follows OS X Yosemite (10.10) and OS X El Capitan (10.11), features a new name that brings it in line with Apple's other operating systems, iOS, watchOS, and tvOS. The update focuses heavily on introducing new features to better integrate with the iPhone and Apple Watch and improve user experience.
macOS Sierra brings Siri to the Mac, allowing users to conduct voice searches to find files, look up information, and more, with the ability to pin searches to the Notification Center for continual monitoring. There are new Continuity features including an "Auto Unlock" option for unlocking a Mac with an Apple Watch, and a "Universal Clipboard" option for copying text on one Apple device and pasting it on another.
Better iCloud integration allows files stored on the desktop and in the Documents folder of a Mac to be accessible on all of a user's devices through iCloud Drive, and there are new deep learning algorithms in Photos for improved facial, object, and scene recognition that make searching for specific photos a whole lot easier.
A "Memories" feature in Photos displays collections of pictures and resurfaces old events, while Messages features rich links, bigger emoji, and Tapback response options.
Apple Pay is coming to the web in macOS Sierra, with payments authenticated through an iPhone or Apple Watch, and new features like multiple tabs, Picture in Picture multitasking, optimized storage, and revamped emoji are also available.
More information on macOS Sierra can be found in our macOS Sierra roundup, which includes details on all major features and a list of more minor changes. Our forum members are also discussing Sierra's new features in our macOS Sierra forum, and we encourage readers to join in with questions and new discoveries.