iPhone 7 Plus Availability Improving Through Apple's Upgrade Program
A spot check of Apple's reservation system for iPhone Upgrade Program members reveals iPhone 7 Plus availability is slowly improving in the United States.
iPhone 7 Plus models in select storage capacities and colors, sans Jet Black models, are available for reservation at select Apple retail stores in California, Florida, New York, and some other states as of the time this article was published. iPhone 7 models continue to be more widely available.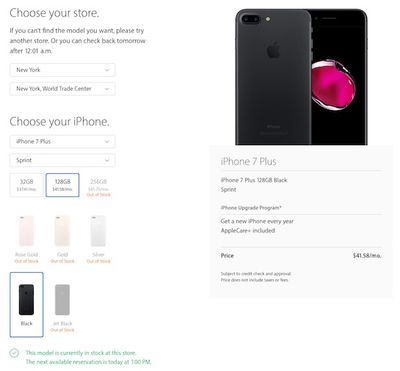 Apple Century City in Los Angeles, for example, currently has 128GB iPhone 7 Plus models for AT&T and Verizon in Rose Gold available for reservation at 4:00 p.m. local time. Similarly, Apple Williamsburg in Brooklyn has 128GB iPhone 7 Plus models for AT&T and Verizon in Black, Gold, Rose Gold, and Silver.
iPhone 7 Plus reservations are available at six other Apple stores in New York City, including its Grand Central, SoHo, Upper East Side, Upper West Side, West 14th Street, and World Trade Center locations. Each location has iPhone 7 Plus models for all four major U.S. carriers, aside from T-Mobile models at Apple SoHo.
iPhone 7 Plus reservations in Florida are available at Aventura Mall in Aventura, St. Johns Town Center in Jacksonville, and International Plaza in Tampa Bay.
Elsewhere, customers can reserve the 5.5-inch model at Highland Village in Houston, South Coast Plaza in Costa Mesa, Pasadena, Irvine Spectrum Center in Irvine, West County Center in St. Louis, Woodland in Grand Rapids, Fayette Mall in Lexington, Jordan Creek in West Des Moines, and some other stores.
iPhone 7 Plus stock both in stores and online has been limited compared to iPhone 7 since last Friday's launch. New data suggests the 5.5-inch model has outsold the 4.7-inch version for the first time ever, likely fueled by exclusive features such as dual cameras, longer battery life, and 3GB of RAM.
Yesterday, it was reported that some Jet Black iPhone 7 Plus pre-orders will be delivered sooner than expected as shipping estimates improve.