iPhone 7 Plus, 128GB, and Black Models Prove Most Popular With Pre-Order Customers
Slice Intelligence has shared new data that suggests the iPhone 7 Plus has outsold the iPhone 7 in the United States, marking the first time Plus-sized iPhones have proven more popular than 4.7-inch models, based on e-receipt data from nearly 32,000 customers who belong to the research firm's panel.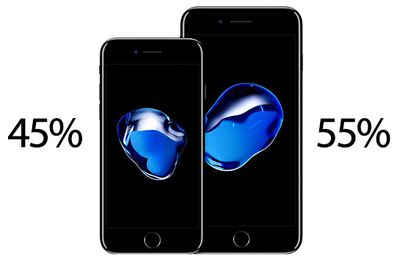 The data shows that, in the first 48 hours of availability, 55 percent of customers ordered the iPhone 7 Plus, compared to 41 percent for the iPhone 6s Plus and 35 percent for the iPhone 6 Plus. The 5.5-inch model is a more attractive option this year given it has dual cameras, while the 4.7-inch model retains a single-lens camera.
55.9 percent of customers who pre-ordered an iPhone 7 or iPhone 7 Plus had previously purchased at least one iPhone between 2014 and now, according to Slice Intelligence. 34 percent of customers had not purchased any smartphone since 2014, while the remaining shoppers switched from Samsung, LG, and Motorola.


Meanwhile, given the lack of Space Gray this year, Black has emerged as the new most popular iPhone color, accounting for 46 percent of pre-orders. Jet Black is also a popular choice, selected by 23 percent of customers, although limited supply of Jet Black models has pushed shipments of Jet Black models to November, likely leading many customers to choose Black, Gold, Rose Gold, or Silver instead.
Rose Gold models, first introduced on the iPhone 6s, represented 15 percent of iPhone 7 and iPhone 7 Plus pre-orders, while Gold and Silver models trailed behind with 9 percent and 8 percent of orders respectively.


For the past three iPhone launches, over 60 percent of pre-orders over the first two days were on the middle storage option, according to Slice Intelligence. iPhone 7 and iPhone 7 Plus continue that trend, with 128GB proving most popular at 67 percent, followed by 32GB at 14 percent and the all-new 256GB tier at 19 percent.
Slice Intelligence tracks e-receipts from 4.2 million online shoppers in the U.S., allegedly the largest panel of its kind, that sign up for the company's value-added services such as Slice and Unroll.me. Slice, for example, is a free app for tracking packages, receipts, price drops, product recall alerts, and more.
Slice Intelligence has charts with more detailed information on its website.