Apple Joins Global Renewable Energy Initiative RE100
Apple's vice president of Environment, Policy, and Social Initiatives Lisa Jackson today announced that Apple has joined global renewable energy initiative RE100, a campaign that's dedicated to getting the world's most influential companies committed to 100 percent renewable power.
Jackson shared the news at Climate Week in New York City, where she also shared some details on Apple's recent environmental progress. In 2015, 93 percent of Apple's worldwide operations were powered with renewable energy, and in the U.S., China, and 21 other countries, Apple uses renewable energy for 100 percent of its operations.
According to Jackson, Apple just completed work on its 50-megawatt solar farm in Arizona, which will power Apple's global data command center in Mesa, Arizona, the former location of Apple sapphire partner GT Advanced.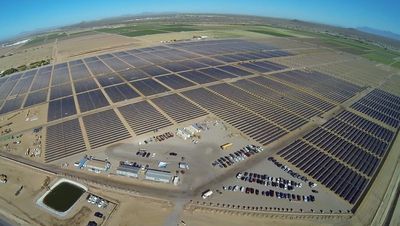 Jackson also gave an update on Apple's commitment to helping its suppliers use renewable energy, announcing that Apple supplier Solvay Specialty Polymers, which makes the antenna bands used in the iPhone, has pledged to use 100 percent renewable energy for all Apple production.
Catcher Technology, a supplier that provides aluminum enclosures for iOS and Mac devices, is also aiming to reach 100 percent renewable energy by the end of 2018.
"Apple is committed to running on 100 percent renewable energy, and we're happy to stand beside other companies that are working toward the same effort," said Jackson. "We're excited to share the industry-leading work we've been doing to drive renewable energy into the manufacturing supply chain, and look forward to partnering with RE100 to advocate for clean-energy policies around the world."
Other major companies who are members of RE100 include IKEA, Adobe, BMW, Coca Cola, GM, Google, HP, Microsoft, Nike, Philips, Starbucks, and Walmart.