iPhone 7 Teardown Reveals 'Incredibly Thin' A10 Chip With 2GB RAM, Intel Modem
While iFixit was busy tearing down the iPhone 7 Plus, the experts at Chipworks opened up an iPhone 7 to take a close look at the chips included on the device's logic board.
The new A10 Fusion chip at the heart of the iPhone 7 is the most significant feature to be examined, with Chipworks noting the chip is indeed manufactured by TSMC with a die size of roughly 125 square millimeters. The iPhone 7 is also confirmed to include 2 GB of memory, compared to the 3 GB found on the iPhone 7 Plus.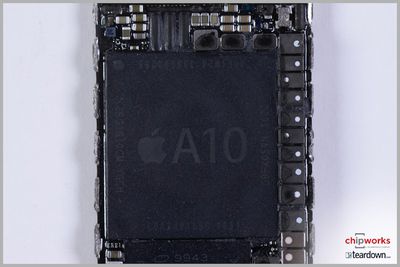 The A10 is also extremely thin, due in large part to the InFO packaging technique used by TSMC which was seen as a major factor in TSMC winning exclusivity for A10 production.
[W]hatever node is being used, the A10 processor is incredibly thin, giving credibility to the reports that TSMC's InFO packaging technique is being used.

The A10 sits below the Samsung K3RG1G10CM 2-GB LPDDR4 memory. This is similar to the low power mobile DRAM as the one we found in the iPhone 6s. Looking at the X-rays we see the four dies are not stacked, but are spread out across the package. This arrangement keeps the overall package height to a minimum. Assembled in a package-on-package assembly with the A10 InFO packaging technique reduces the total height of PoP significantly.
On the cellular modem side, Chipworks found an Intel part that is likely the XMM7360, paired with two SMARTi 5 RF transceiver chips and a power management chip also from Intel.
As we previously noted, Apple is producing two different models of both the iPhone 7 and 7 Plus, with models for AT&T and T-Mobile users not including support for CDMA networks. This is apparently a result of a modem supplier split between Intel and Qualcomm, with Intel's current chips unable to support CDMA networks due to licensing issues. iPhone 7 and 7 Plus models with Qualcomm modems can support both GSM and CDMA networks.
Finally, Chipworks notes that flash storage for the iPhone 7 is also being at least dual-sourced, with Hynix and Toshiba chips being found in its two teardown phones.
For the rest of the details on the chips found in the iPhone 7, check out Chipworks' full rundown.
Update: Chipworks has confirmed the A10 Fusion chip is still made on TSMC's 16 nm FinFET+ process and has shared an annotated die shot of the chip.