Apple Watch Series 2 Reviews: 'The First Real Apple Watch' Thanks to Fitness and Processor Upgrades
Following the publication of reviews for the iPhone 7 and iPhone 7 Plus yesterday, now the first official reviews for the Apple Watch Series 2 have begun hitting the web. Apple announced its second-generation Apple Watch alongside the iPhone 7 last week, and both devices will launch this Friday, September 16.
While there are varying opinions among reviewers, the consensus on Apple Watch Series 2 is epitomized in TechCrunch's straightforward headline, calling it "the first real Apple Watch." Reviewers think that the 50 percent faster processor, improved durability in water, and fitness-focused features have elevated the second generation of Apple Watch to become a more sensical purchase option, going beyond its previous status as a simple luxury item and into functional usability.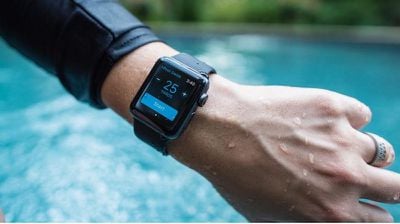 Image via The Wall Street Journal
The Wall Street Journal
refers to Series 2 as a product you still don't "need," but it may now be something you "want." As many have focused on when testing Series 2, the site spent a lot of its review on the fitness features of the Apple Watch, referring to the new on-board GPS as the device's "greatest strength and greatest downfall." This is because while being able to leave an iPhone behind while running is a major plus, it comes at the cost of battery life.
This new wireless freedom is the Apple Watch's greatest strength and greatest downfall. A 20-minute run with music playing knocked out 20% of my watch battery's juice. While there is a bigger battery inside this slightly thicker watch, those who plan to use GPS for a daily jog won't get longer battery life. (Apple says it designed the GPS on the Apple Watch to last through a marathon.) On days where I didn't use GPS, I went to bed with nearly 40% of the battery left. That's strong, though the Fitbit Blaze lasts four days, so you can even wear it to track sleep.

The Series 2 is what the first Apple Watch should have been—a more advanced Fitbit with the good looks and features to justify wearing it all day, every day. It's speedy, helpful and able to go where you can't—or won't—take your smartphone.
TechCrunch's reference to the Series 2 as "the first real Apple Watch" comes from the site's idea that a wearable should be able to accomplish little tasks throughout the day in 1-3 seconds, which the original Apple Watch struggled with due to long app loading times. But thanks to the additional processor speed, and bright display, TechCrunch Editor-in-Chief Matthew Panzarino says he has "already found myself using the Watch for interactions more often."
The Apple Watch Series 2 is the first real Apple Watch. It delivers on the promise of a mostly passive device that can accomplish simple tasks in 1-3 seconds. There is now built-in GPS which allows for exercising without having to lug along a comparatively heavy iPhone just to get accurate tracking. And it's completely waterproof, as any decent sport watch should be.

The screen is noticeably brighter now, making text, especially on activity summary screens, much easier to read. Because of the speed and brightness, I have already found myself using the Watch for interactions more often. This had already started happening a bit with Apple's WatchOS 2 update last year, which improved performance significantly, but it's incredibly apparent now with the faster processor.
While a similar fan of the new fitness abilities, The Verge reminded potential buyers that "familiar hassles remain" with Apple Watch Series 2. These include raise to wake not working consistently, troubles with syncing music into the 2 GB of storage, and the consistent fact that you have to charge the Apple Watch every day, particularly if you use it during workouts.
Although these are all qualms that can be dealt with for most people, the site argues that any professional athlete, or someone more serious about fitness, might become frustrated with the device.
But for all of the improvements, some of the hassles from the original Watch remain. Apple still has a lot of work to do. I've noticed the display still doesn't wake every time I raise or twist my wrist, which is annoying. For whatever reason, I've had trouble syncing my iTunes to the Watch, which can support up to 2GB of music.

Finally, the battery life: the new Watch has a bigger battery in it to compensate for the GPS and the brighter display. And it's definitely better than the first Watch: a couple days ago I put the Watch on first thing in the morning, popped the display up to full brightness, went through a day of notifications, used GPS during an hour-long bike ride, and still had 20 percent battery left later that night. But it's still a charge-every-day kind of thing if you work out, which is one of my least favorite aspects of smartwatches.
Early adopters of the Apple Watch Series 2 will be able to check out the wearable device for themselves beginning this Friday, September 16, when it launches to the public. On that day, the iPhone 7 and iPhone 7 Plus will also debut, and so far reviews for the smartphones have generally noted that while the devices might not be essential upgrades, they are nice advancements and form an important foundation for the iPhone's future.
Check out more reviews for the Apple Watch Series 2 at these websites:
- Mashable
- The Independent
- USA Today
- BuzzFeed
- Daring Fireball
- The Loop
- Pocket-lint
- CNET