Apple's Phil Schiller Recommends Lightning Dock for Charging an iPhone 7 While Listening to Music
Apple's new iPhone 7 and iPhone 7 Plus ship without a headphone jack, requiring customers to use either Bluetooth or Lightning-equipped headphones. Many customers who routinely charge their iPhones while also listening to music have been questioning whether that usage scenario will possible sans headphone jack, and as it turns out, Apple has a solution.
In an email to a customer, Apple SVP of marketing Phil Schiller says that while he prefers to use the wireless AirPods to listen to music, customers who want to listen to wired headphones while charging an iPhone 7 can use the Apple Lightning Dock, which has a built-in headphone jack.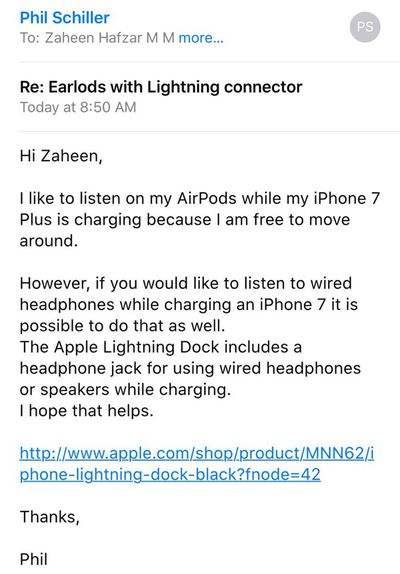 Priced at $49 and available in colors to match each of the iPhones, the Lightning dock has both a USB input and a 3.5mm headphone jack built in, making it perfect for customers who want to charge and listen to music at the same time. Unfortunately, it's an expensive solution compared to former method of using 3.5mm EarPods and a Lightning cable, which came free with the iPhone. Belkin also just announced a $40 Lightning Audio + Charge RockStar adapter designed to let users listen to Lightning headphones while charging, but it's both bulky and pricy.
To ease the transition away from the 3.5mm headphone jack, Apple is providing customers with both a Lightning to 3.5mm adapter and a set of EarPods with a Lightning connector. Of course, when using these accessories, charging is not possible at the same time.


Apple's ultimate goal seems to be to transition customers to wireless headphones like its recently announced AirPods. While on stage at yesterday's event, Schiller explained that one of the reasons why Apple moved away from the headphone jack was to push wireless technology forward. The AirPods, which have been in development since the Apple Watch was conceived, feature a proprietary wireless W1 chip and up to 24 hours of battery life implemented through a charging case.
AirPods, priced at $159 and similar in design to EarPods, are entirely wireless with no cord connecting the two earpieces and feature technology like gesture recognition, voice isolation, and more. AirPods have been receiving largely favorable reviews, but $159 is a lot to pay for the ideal iPhone 7 music experience.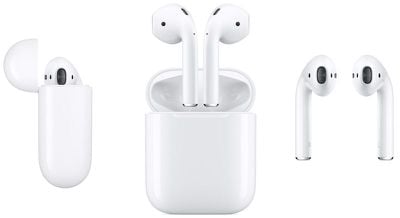 Apple executives have explained that the removal of the headphone jack took a lot of "courage," but was necessary to free up valuable space and improve technology in the iPhone 7 and future iPhones.
(Thanks, Zaheen!)