AirPods Impressions: Potential 'Game-Changer' With Good Design, but Will They Stay in the Ear?
To compensate for the lack of a 3.5mm headphone port on the new iPhone 7 and iPhone 7 Plus, Apple yesterday introduced the "AirPods." The wireless headphones give users 5 hours of music playback, and come in a carrying case that doubles as a battery pack, holding an extra 24 hours of charge in a small, 2-inch tall frame.
Following the keynote presentation yesterday, Apple let a few members of the press test out its new pieces of hardware, including the iPhone 7, Apple Watch Series 2, and the AirPods. Although the noisy showroom made it tough for many journalists to judge the headphones' sound quality -- which Apple says is "rich, high quality AAC audio" -- many left impressed with the new technology, and curious to see how they'd perform on a day-to-day basis.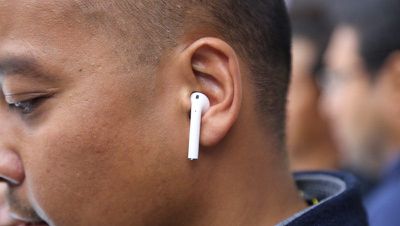 Images via TechCrunch
TechCrunch
noted the subtle advantages of AirPods and their existence in the Apple ecosystem, mainly the seamless way that the headphones pause music automatically whenever users take them out of their ears, and resume the same track when returned. The site was less sure of the design of the AirPods, particularly whether or not the small headphones would stay in place during jogs or other strenuous workouts, although the "long tail" of the AirPods "actually goes a ways toward helping them fit better in the ear."
It's an interesting aesthetic choice, one that bucks the recent trend of fully wireless Bluetooth headphones, which are largely circular. These maintain the EarPods' long tail, which actually goes a ways toward helping them fit better in the ear.

As far as how well they'll actually stay in there if you, say, go for a jog, it's hard to say, though the buds could certainly benefit for some sort of anchoring system akin to what you get on sportsbuds from companies like JayBird.
As a counter-argument to everyone's concerns over whether the AirPods can become dislodged while moving, USA Today digital editor Natalie DiBlasio posted a short video on Twitter to test out the AirPods' resistance to jumping and shaking around. Only 9 seconds long, DiBlasio's test is still interesting as proof that the AirPods appear lodged well enough in her ears as to resist her movement test, although a long run with more sweat and motion could prove a more daunting task for Apple's wireless headphones.
CNET
's editors gave some of the more positive impressions of the AirPods, calling the new headphones "game-changers," with the caveat of the device living up to Apple's promised potential of high quality music and a consistent connection. There still remains worry over how different sized ears will work with the AirPods, which could cause unfortunately negative experiences for some users.
If they're as easy to pair with your phone and have as rock-solid a connection as Apple is saying they have, they're going to be game-changers. The fact is, once you go totally wireless, it's hard to go back to wires, and with Apple's backing behind this new type of headphone -- and a $159 price tag that's not too outrageous -- you may soon be looking at a lot people wearing the same white earbuds but with no wires between them.


Wired left impressed with what the AirPods could do for the wireless headphone market, particularly in the hassle-free set-up process, but was noticeably more hopeful for "something that looks and sounds better" than the AirPods to come down the line in the future. For what Apple's made now, the site still noted that the AirPods were "much lighter" than other Bluetooth headphones, and they "nestled comfortably" in the ear.

I hope that AirPods don't scare everyone else off from trying to make Bluetooth headphones. I don't think they will, because they don't sound good enough. And these aren't the ones that will ship in the box with your iPhone 7; you get the standard EarPods when you buy an iPhone, which connect over Lightning now. (There's also an adapter.) But hopefully Apple has set the bar for how easy it should be to connect Bluetooth headphones, and how responsive they should be. If someone can copy that, and make something that looks and sounds better, we might not miss the headphone jack at all.
Since the features of the AirPods are so focused, much of the other reactions and impressions for the device echo similar opinions as the ones we've collected above. It sounds like Apple's made a quality, if high-priced, pair of wireless headphones that might be aimed more at casual music listening than intense workouts, undoubtedly a market the new Beats headphones will help bolster. For more impressions on the AirPods, check out the sites below:
- Engadget
- Macworld
- The Verge
- The Telegraph