Macy's Department Store to Start Selling Apple Watch
Macy's is set to become the first major department store in the U.S. to offer the Apple Watch, reports Fortune. Starting before the holiday shopping rush, Macy's will begin offering the Apple Watch at more than 180 stores across the United States.
"It will be in all of our top buildings for the holiday season," said Macy's president and future CEO Jeff Gennette. In addition to offering the Apple Watch in many of its retail locations, Macy's also plans to open a dedicated Apple Store inside of its flagship Herald Square location in New York, which will sell a variety of Apple products including iPhones, iPads, MacBooks, and Apple Watches.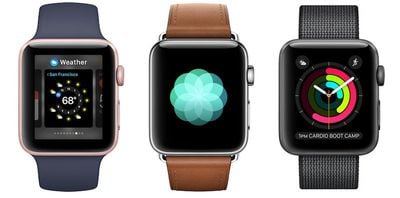 Since its April 2015 debut, the Apple Watch has become available for purchase from many major third-party retailers around the world. In the United States, the Apple Watch can be purchased from stores like Best Buy, Target, Walmart, and B&H Photo, making it easy to walk into any local brick and mortar store to pick up one of Apple's wearable devices.
Last year, steep holiday discounts on the Apple Watch from retailers like Best Buy and Target helped spur its popularity. Apple has never divulged sales numbers for the Apple Watch, but market research suggests it is by far the most popular smart watch on the market.
Apple this week introduced its second-generation Apple Watch, the Apple Watch Series 2. The new devices feature a much faster S2 processor, better waterproofing, a GPS chip, and a brighter display. Apple also introduced Series 2 Apple Watches created in collaboration with Nike and Hermès, along with a new high-end ceramic material. The Series 1 Apple Watch, which features a lower price tag, was upgraded with the S2 processor but none of the other new features.
Macy's and other Apple Watch retailers will offer the new Series 1 and Series 2 models in stores as soon as they are available. Apple Watch Series 2 goes on sale on September 16, with pre-orders starting on September 9.