Apple Watch 2 Display and Battery Components Measured Against Original Model in New Video
After sharing photos and a video of the thin display and larger battery for the Apple Watch 2, Byte today posted a video focused on comparing the measurements of the new and old Apple Watch generations. As expected, the measurements for the Apple Watch 2 represent an overall slightly thinner display than the original model, while its battery is noticeably thicker.
Thanks to the detailed measurements, Byte was able to confirm that the Apple Watch 2's display is 2.86 mm at its thickest location and 2.12 at its thinnest, compared to 3.57 mm and 2.99 mm, respectively, for the original Apple Watch.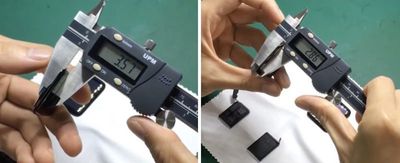 The thickest point of the Apple Watch display (left) vs thickest point of the Apple Watch 2 display (right)
The Apple Watch 2's slightly different measurements continued in the height and width of its display (appearing to be a 42mm model), which measured 39.47 mm tall and 33.43 mm wide. The first generation Apple Watch came in at 38.74 mm tall and 32.65 mm wide, so while the Apple Watch 2 is slightly taller and longer, the overall difference appears to be similarly negligible as iPhone generations that jump between the main models and an "S" generation.
Byte also measured the thickness, length, and width of each generation of Apple Watch battery, with the first measuring 3.95 mm thick, 27.46 long, and 18.42 mm wide. Comparatively, the upcoming second generation Apple Watch battery measured 5.11 mm thick, 27.50 mm long, and 18.71 mm wide, falling in line with previous rumors that the Apple Watch 2 would have a larger battery to fuel speedier performance and improve its recharge life.
The battery for the 42mm Apple Watch 2 was investigated in a
video last week
, and was rated for 1.28 watt-hours. If proved true, this means that the 42mm Apple Watch 2 will have a 334 mAh battery that is 35.7% larger than the 246 mAh battery in the original 42mm model. Last week's video also showed Apple Watch 2 components like the Force Touch gasket, but the piece wasn't measured due to the similar size between each generation.
Byte also shared a circular gasket component of the Apple Watch 2, speculating its potential involvement in providing further water resistance to the unit, particularly its appropriate size for the heart rate sensor.
Apple is expected to announce the Apple Watch 2 during tomorrow's media event, along with the debut of the iPhone 7 and iPhone 7 Plus. Despite the slight differences in the measurement of its display and battery, the new generation of Apple Watch will still keep the external design of the current model.