Apple has begun selling gift cards for Apple Music annual subscriptions at the discounted price of $99. The 12-month gift cards work out at $8.25 per month, offering an 18 percent saving over the standard $9.99 monthly subscription rate for Apple's streaming service.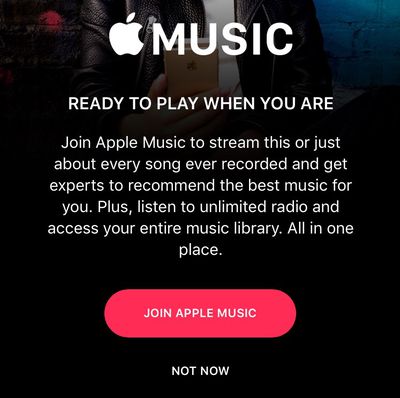 Currently the gift cards are being offered at brick-and-mortar Apple stores and select third-party sellers like Best Buy, but eGift cards can also be purchased online at PayPal and Walmart for instant activation.
Elsewhere, residents in the U.K. can use PayPal's online eGift shop to buy 12-month Apple Music gift cards for £99, which works out at £8.25 instead of £9.99, for those willing to sign up for a full year.
Apple still offers eligible students 50 percent off an Apple Music subscription, while the family plan lets up to six people pay $15 per month, or $2.50 each.
The new Apple Music, which has seen a significant redesign in iOS 10, will launch to the public this fall.
(Via 9to5Mac)