Apple Says Australian Banks' Apple Pay Challenge Harms Consumers
Apple today made a submission to the Australian Competition & Consumer Commission (ACCC), arguing that Australia's "Big Three" banks' request to collectively negotiate over Apple Pay is ultimately harmful to consumers, would stifle innovation in mobile payments, and would avoid competitive dynamics (via AppleInsider).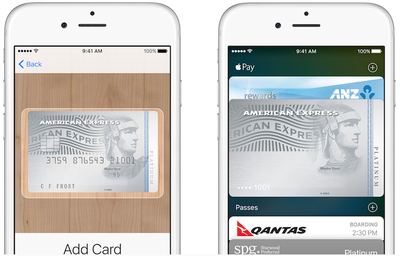 The Cupertino company argues that each of the big three banks (Commonwealth Bank, National Australia Bank (NAB) and Westpac) have resisted "serious engagement" with Apple on Apple Pay for the past two years.
Apple claims that they have tried and failed to negotiate with all of the banks, save for one bank who refuses to sign a confidentiality agreement that would allow Apple to send over its initial terms. Apple says that collective bargaining would slow negotiations further, dragging the collective to the level of the least willing member.
The collective, Apple argues, means that each of the banks has no fear of its competitors offering Apple Pay. Thus, the banks wouldn't fear a potential loss of consumers over the feature. This harms consumers by avoiding competitive dynamics, according to Apple.
The move would also stifle innovation in mobile payments, erasing incentives for existing players in Australia to build on top of or compete with Apple Pay. However, a spokesman for the banks told AppleInsider that they, alongside Australia's merchants and payment processors, have been working on contactless payments before Apple Pay.
The banks say that, unlike Android or Samsung, Apple blocks access to NFC payments and "wants to leave users with no choice but to use Apple Pay." They want to negotiate with Apple to offer other integrated wallets within Apple Pay. Last week, Australia's retailers and payment processors sided with the banks to collectively negotiate.
Apple's submission comes 10 days after the ACCC denied interim approval of the collective negotiations. The banks first issued their joint application in late July. The ACCC will make a final decision in October. Most recently, Australian bank ANZ expanded support for Apple Pay to MasterCard, adding to the already-supported Visa and American Express.