While the Macintosh Plus was discontinued over 25 years ago, two developers have brought the old school machine back to life in the form of a Nintendo 2DS and 3DS.
The first developer, who uses the pseudonym TarableCode, managed to port the Mini vMac emulator to Nintendo 2DS and has since shared pictures and technical details of her homebrew accomplishment on video game community GBAtemp. The code for Mini vMac for Nintendo 2DS/3DS is available on GitHub.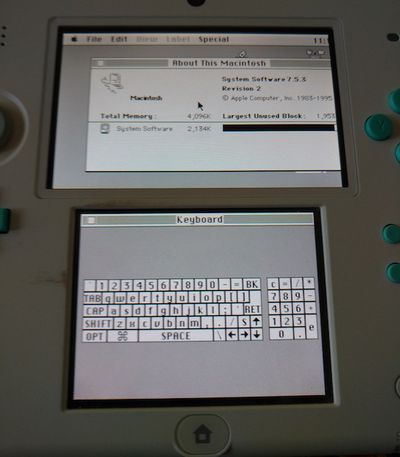 The photo shows the Nintendo 2DS is running Macintosh System 7.5.3, retroactively called Mac OS 7, released in 1996. The 2DS's directional pad functions as arrow keys, while the L and R shoulder buttons are the mouse buttons, the Y button toggles the on-screen keyboard, and both the circle pad and touchscreen move the mouse.
A fellow homebrew enthusiast who uses the pseudonym LarBob Doomer has since uploaded a YouTube video that shows the emulated Macintosh Plus experience in action on Nintendo 3DS. In the video, he scrolls through a functional version of System 6, and opens apps, inputs text from the keyboard, and eventually powers off the device.
The practical applications of 20-year-old Mac software running on Nintendo 3DS are obviously limited, but the homebrew emulator is a unique proof of concept. In the past, developer Nick Lee similarly managed to get both
Macintosh System 7.5.5
and
Windows 95 to run on an Apple Watch
.
(Thanks, Mitch!)