New Report Confirms 'iPhone 7' and 'iPhone 7 Plus' Names, Effectively Ending 'iPhone 7 Pro' Rumors
The assumed names of this year's iPhone lineup -- "iPhone 7" and "iPhone 7 Plus" -- have been confirmed by "reliable sources" speaking with Japanese site Mac Otakara. The sources said that Apple is following this name scheme to avoid confusion of having back-to-back iPhones with "S" in the name, even though the iPhone 7 will largely be a minor update over the iPhone 6s.
The new report nixes the chance for an additional third tier "iPhone 7 Pro," which was a rumored dual-lens alternative to the single-lens "iPhone 7 Plus" early in the rumor cycle. The less-powerful camera option was said to be created by Apple as a fallback in case the dual-lens technology didn't pan out. Now that everything seems to be going well for the company in this area, and mockups have repeatedly shown a dual-lens camera enclosure, it makes sense for Apple to revert to the well-known "Plus" moniker for its next-generation 5.5-inch dual-lens iPhone, and drop any reference to "Pro" altogether.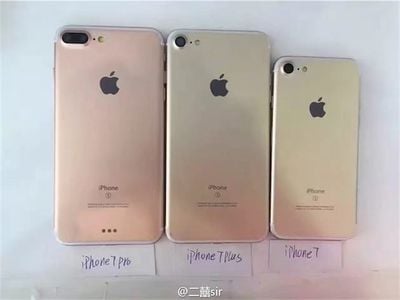 Otherwise, Mac Otakara reiterates on the expected rumors of the iPhone 7: there won't be a 3.5 mm headphone jack, it will house an A10 chip, and it will introduce a new flush, capacitive Home Button in lieu of the traditional physical switch. That last aspect of the new iPhone has been a bit more up in the air in the weeks ahead of the September launch, since it's hard to fully decipher whether recent image mockups confirm one way or the other if the Home Button is pressure-sensitive or not.
It's believed that the iPhone 7 and iPhone 7 Plus will be revealed at an Apple event on September 7, with pre-orders beginning two days later on September 9. A recent leak from AT&T has pushed back the reported launch of the new iPhone, however, suggesting that Apple could be preparing a wide release on September 23, although the original rumor of September 16 is also still a viable option.