After years of planning, and testing phases over the
last few months
, Uber this month will begin allowing customers in Pittsburgh to summon self-driving cars from within its ride-hailing app. As noted by
Bloomberg
, "no automotive or technology company has yet achieved" the public launch of a self-driving service, passing rivals Google, Tesla, and Ford, who have so far only performed tests in the field.
Uber's new program isn't entirely "driverless," however, since the company is still placing trained engineers in the driver's seat, "as common sense and the law dictate," to oversee each trip and ensure the passenger's safety. There will also be a co-pilot in the front passenger seat to take notes while the test trips take place, and everything will get recorded by cameras inside and outside the vehicle "so that any glitches can be ironed out."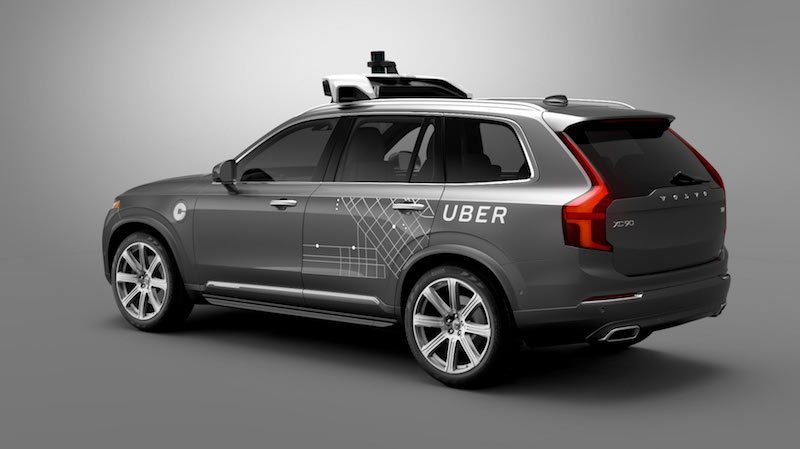 On the passenger side of things, once users hail the specially modified Volvo XC90 sport-utility vehicles, they'll see a tablet computer in the backseat that comes stacked with information to tell them that they're in an autonomous vehicle and educate them on exactly what's happening. Although unspecified, it appears that riders won't know they're being paired with a driverless car while in the Uber app, but the ride will be free of charge "for the time being."
According to Uber's engineering director Raffi Krikorian, "the goal is to wean us off of having drivers in the car, so we don't want the public talking to our safety drivers." The company also thinks the new technology could greatly cut down on the cost of trips for riders, which it sees as a major opportunity. Still, there are hiccups in the system the company has to fix before all of this progress can happen.
On a recent weekday test drive, the safety drivers were still an essential part of the experience, as Uber's autonomous car briefly turned un-autonomous, while crossing the Allegheny River. A chime sounded, a signal to the driver to take the wheel. A second ding a few seconds later indicated that the car was back under computer control. "Bridges are really hard," Krikorian says. "And there are like 500 bridges in Pittsburgh."

Uber's cars haven't had any fender benders since they began road-testing in Pittsburgh in May, but at some point something will go wrong, according to Krikorian. "We're interacting with reality every day," he says. "It's coming."
Apple itself was the source of multiple
self-driving automobile rumors
, beginning last year, but ultimately it's believed that the company's first foray into the vehicle industry most likely
won't be autonomous
, with further generations down the line more likely to include the technology. All the same, over the summer it was reported that Apple is taking a "
two-prong approach
" to the Apple Car, focusing more heavily on creating its own autonomous driving system rather than the hardware manufacturing of the vehicle itself.
You can read
Bloomberg
's full report on Uber's autonomous vehicle launch in Pittsburgh
right here
.