Sketchy Rumor Suggests iPhone 7 Will Feature Faster Charging Speeds
Apple's iPhone 7 and iPhone 7 Plus could feature improved charging speeds, according to information shared by Twitter user The Malignant, citing an unverified Chinese source.
Alongside an image of an iPhone 6s and iPhone 7 logic board comparison that does not seem to divulge any clear info to confirm the rumor, The Malignant says the iPhone 7 will feature "at least" five volt two amp charging.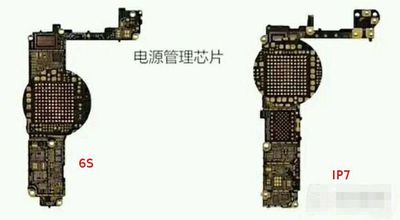 Apple's iPhone models currently ship with a 1A/5W charger, but are
able to charge more quickly
with a 2.1A/12W iPad adapter. With the rumored fast charging feature, charging speeds would presumably be even faster than using an iPad charging adapter with a current model iPhone.
Improved charging speed is not an iPhone 7 rumor that we've heard before, nor does it come from a reputable source, so this information should be viewed with some skepticism. Twitter user The Malignant appears to share a variety of rumors and information sourced from Chinese social networking sites, not all of which is reliable.
Apple is expected to introduce the iPhone 7 at an event rumors suggest will be held on Wednesday, September 7. More reliable rumors about the device suggest it will feature a slightly redesigned body with relocated antenna bands, camera improvements, a faster processor, and no headphone jack.