Apple Acquires Machine Learning and AI Startup Turi
Apple recently purchased Seattle-based machine learning and artificial intelligence startup Turi, reports GeekWire. Apple is said to have paid around $200 million to acquire the company, which was known as "Dato" until earlier this month.
Turi is designed to help developers build apps with artificial intelligence capabilities that automatically scale. It has developed the Turi Machine Learning Platform, GraphLab Create, and Turi Predictive Services, used for functions like recommendations, fraud detection, sentiment analysis, and more.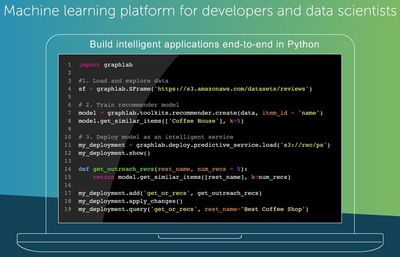 Turi toolkits simplify development of machine learning models. Each incorporates automatic feature engineering, model selection, and machine learning visualizations specific to the application. There is no faster way to build performant models.
Citing people familiar with the acquisition, GeekWire says Turi employees will remain in the Seattle area, where Apple has been establishing a presence over the past few years.
Apple confirmed the acquisition with the standard purchase statement it gives to media outlets: "Apple buys smaller technology companies from time to time, and we generally do not discuss our purpose or plans."
It is not known what Apple will do with Turi's technology, but Apple has made several AI-related purchases in recent months including VocalIQ, Perceptio, and Emotient.