Apple Working on Digital Television Guide for Apple TV
Apple is working with television content providers and video companies to create a universal digital TV guide for the Apple TV and iOS devices, reports Recode.
Apple's goal is to help users discover all of the different television channels that are available through dedicated apps from companies like HBO, Netflix, and ESPN without the need to open up each app. The digital TV guide would also include a feature allowing users to play TV shows and movies with one click.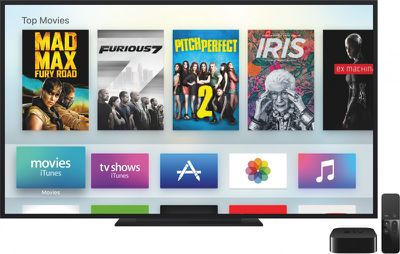 Last year, after Apple shelved its plans for a streaming television service, it shifted its strategy to the tvOS App Store, positioning it as a way for content providers to share their own content on Apple's platform. Apple CEO Tim Cook has said in the past that he believes the future of TV is apps.
Industry sources say Apple's plans are an outgrowth of the TV service it wanted to launch last year. The difference is that in 2015, Apple wanted to sell TV programming directly to consumers, and provide them with a new interface that would make it easy find the stuff they paid for.

Now Apple is just working on the interface. It is letting programmers, distributors and customers work out the money part among themselves.
According to Recode, the single sign-on feature that's bundled into tvOS 10 is the first part of Apple's TV guide plan. Single sign-on will allow customers with a cable subscription to sign into the Apple TV once and access all of the apps that are available through cable authentication.
Apple already has access to information about the television content within apps to power Siri's Apple TV search features, but the company is said to be speaking with content providers about additional metadata for its full guide.
It's not clear what an Apple TV guide might look like, but it could perhaps work similarly to the App Store, with editor-based show recommendations, custom "For You" recommendations based on watched shows, lists of popular television shows, and more, making it easier for customers to discover new television content.
There is no word on when an Apple-designed television guide could be added to the Apple TV and iOS devices, but TV execs that spoke to Recode expressed some hesitation about the idea because it would eliminate their ability to draw customers to their own guides and channel promotion efforts.