Popular writing app and Apple Design Award winner Ulysses gained WordPress publishing and Dropbox support today, in a simultaneous update to its iOS and Mac apps.
The changes that come with version 2.6 of the writing app mean that bloggers can publish their texts straight to a WordPress account, complete with tag, category, excerpt, and featured image support.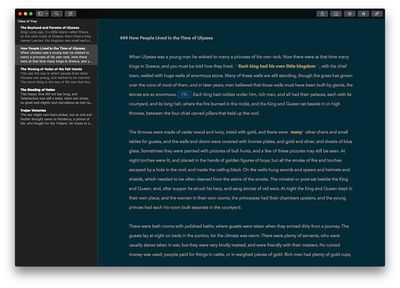 Writers using the iOS or Mac app can also schedule the publishing time and preview their posts before they go live, all from within Ulysses. German developers The Soulmen say the app supports blogs hosted on WordPress.com as well as self-hosted installations, and also allows publishing to multiple accounts.
As with the Mac, iPad and iPhone users can now also sync their texts over Dropbox instead of via iCloud, with full support for adding Dropbox folders to Ulysses' hierarchical text library.
In addition, plain text and Markdown files stored in Dropbox folders behave just like native Ulysses sheets – supporting the app's sorting tools, filters, group goals, favorites, and so on – so users no longer need to import their files manually.
The 'Quick Open' feature on Ulysses for Mac has also made its way over to the iOS version, allowing users to perform entire library searches and open sheets without navigating through text hierarchies.
Meanwhile, Ulysses 2.6 brings Typewriter Mode to iOS, which promises the same focused writing experience to be found in the Mac app, allowing writers to highlight paragraphs and sentences, fix scrolling, mark the current line, and more.
Lastly, Ulysses 2.6 has been optimized for accessibility, to better cater for visually impaired writers working in macOS and iOS, with support for VoiceOver on both platforms.
Ulysses for Mac costs $44.99 and can be found on the Mac App Store. [Direct Link]
Ulysses for iOS is available as a universal app on the App Store, priced at $24.99. [Direct Link]