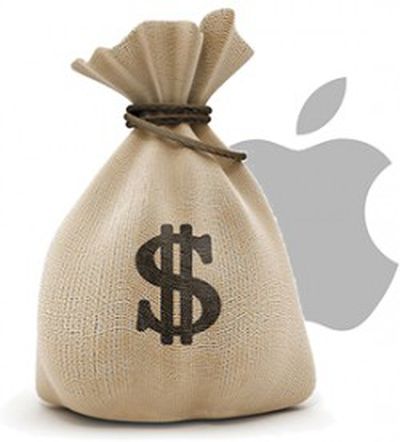 Apple has raised $7 billion in debt through a five-part bond sale of both fixed and floating rate notes, according to the company's final pricing term sheet filed with the U.S. Securities and Exchange Commission on Friday.
The five-part sale includes:
$350 million maturing in 2019 with a floating interest rate based on three month LIBOR plus 14 basis points

$1.15 billion maturing in 2019 with a fixed 1.1% interest rate

$1.25 billion maturing in 2021 with a fixed 1.55% interest rate

$2.25 billion maturing in 2026 with a fixed 2.45% interest rate

$2 billion maturing in 2046 with a fixed 3.85% interest rate

The transaction was underwritten by Goldman Sachs, J.P. Morgan Securities, MLPF&S, and Deutsche Bank Securities, among others.
Apple held $231.5 billion in cash and marketable securities, partially offset by $68.9 billion in long-term debt, as of the fiscal third quarter, but a significant portion of that money is held overseas and would be subject to high U.S. taxes upon repatriation. By raising debt through bonds, Apple can pay for its U.S. operations at a much lower rate, particularly given its low-risk Aa1/AA+ bond credit rating.
Apple typically uses the capital raised to fund dividend payments to shareholders and its share buyback program, which the company expanded to $175 billion in April. At the time, Apple said it expects to spend over $250 billion in cash under its capital return program by the end of March 2018. It also uses the capital for general corporate purposes, such as the repayment of earlier debt and acquisitions.