Apple Takes Top Spot in FutureBrand's Ranking of World's Favorite Companies
FutureBrand recently released the results of a survey that questioned 3,000 consumers about the 100 biggest companies in the world, asking them to score each company on 18 different factors like trust, innovation, individuality, and price premium. The 2016 results crowned Apple as the top company in the world, "in terms of perception strength, rather than financial strength" (via CNET).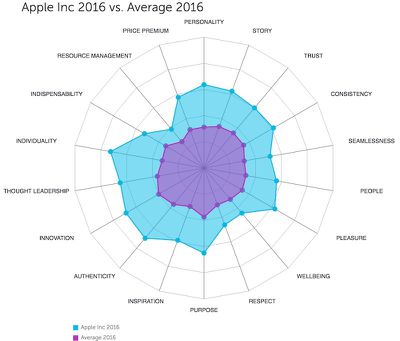 Some of the highest marks Apple received this year surrounded its individuality, authenticity, and purpose, while it scored less well in resource management, wellbeing, and respect among the consumers surveyed. Compared to the second-place entry in the Top 100 listing, Microsoft, Apple edges out ever so slightly in personality and consistency, while customers questioned believed Microsoft to be more innovative than Apple.

Technology companies occupy the top two spots in this year's rankings and enjoy strong perceptions across our measures. Six of the twenty four 'future brands' are in the technology sector – one fewer than in 2015.

A 'future brand' is a brand that is more likely to succeed in the future, not just one that is strong now. This is because it perfectly balances strong perceptions of its purpose in the world with the experience it delivers.
Apple's 2016 win comes after it lost the top spot to Google last year, but a bit of behind-the-scenes reorganization seems to be the reason for the search engine company's egress from FutureBrand's list this year. Since Google is considered wholly part of parent company Alphabet, only the latter could appear as a contender for Apple's first place spot. But consumer knowledge -- or lack thereof -- surrounding Alphabet and its relationship with Google most likely led to Alphabet's 21st place ranking.


The rest of the top spots are rounded out by companies like Disney, Amazon, Samsung, Toyota, and Facebook. Specifically in the Technology Sector, Apple's numbers rise even higher. The Cupertino company is 36 percent above the sector average when it comes to thought leadership, and 33 percent above the average in terms of consistency in producing high quality products. Similarly, many survey respondents confirmed they would like to work for Apple (37 percent above sector average), and that they would buy its products (39 percent above sector average).
You can look over FutureBrand's 2016 rankings here.