iPhone SE Estimated to Grab 16% of U.S. iPhone Market in Launch Quarter
Apple's newest 4-inch iPhone SE has taken a 16 percent share of the overall United States iPhone market in its launch quarter, according to new survey data shared by Consumer Intelligence Research Partners and UBS analyst Steven Milunovich. The data shows that the iPhone SE has been successful in "flushing out" older phones, with 26 percent of iPhone buyers in the quarter moving up from an iPhone 4s, up from 16 percent in the previous quarter.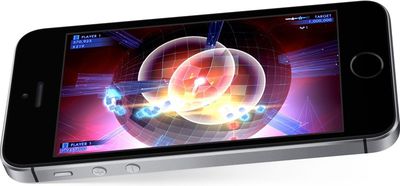 The strong entry of the iPhone SE naturally came at the expense of Apple's other phones in model share, with the iPhone SE helping to prop up overall iPhone sales as the other models begin showing their age by serving as an enticing upgrade option for more frugal customers and those unwilling to upgrade to a larger screen.
The percentage of plus models sold fell by 6 points in the June quarter following a 9 point increase in March. The success of the iPhone SE could demonstrate pent-up demand for a smaller screen and price sensitivity in the installed base.
In the same vein, CIRP's data points to a slight shift towards the preference of lower storage capacities across every model in the iPhone family, as more frugal-minded consumers enter the market at the end of the current iPhone cycle. Although the research firm has seen a slow uptick in higher storage options over the last three quarters (62 percent of iPhone buyers opted for higher capacities in the March quarter, increasing 11 percent year-over-year), compared to the year-ago quarter average storage per smartphone dropped a total of 10 percent. The iPhone SE with only 16 GB and 64 GB options undoubtedly contributed to this decrease.

Close speculation has surrounded not only the current iPhone sales numbers, but the prediction of how well the iPhone 7 will do come September as Apple tries to regain momentum following the first year-over-year decline in revenue since 2003 and first ever year-over-year decline in iPhone sales. Concerns over potential "lack of innovation" is at the root of some doom-and-gloom sales predictions, although, as CIRP corroborated today, Apple has continued to ramp up production of the iPhone SE in the wake of "very strong" demand.