'Pokémon Go' to Feature Retailer-Sponsored Locations
Niantic Labs, the developer behind the hit augmented reality game Pokémon Go, today hinted to the Financial Times that it plans to allow retailers and other companies to introduce sponsored locations in the future as a way to monetize the app.
Real world locations in Pokémon Go serve as "Pokéstops" for collecting in-game items and power-ups including "Pokéballs" or as "gyms" for battling the pokémon of other players. Right now, Pokéstops and gyms are largely located at notable landmarks like parks and statues, but may expand to encompass retailer-sponsored locations.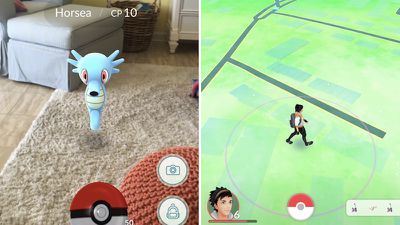 Niantic Labs' previous app, Ingress, featured similar branded portals purchased by retailers like Jamba Juice and Zipcar. Advertisers who purchased portals through Niantic Labs paid on a "cost per visit" basis, and a similar tactic could be used in Pokémon Go.
John Hanke, chief executive of Niantic, which developed Pokémon Go in partnership with the Japanese games group, said "sponsored locations" would provide a new revenue stream, in addition to in-app purchases of power-ups and virtual items. [...]

Alongside in-app payments, "there is a second component to our business model at Niantic, which is this concept of sponsored locations", Mr Hanke said, where companies "pay us to be locations within the virtual game board -- the premise being that it is an inducement that drives foot traffic".
Niantic CEO John Hanke declined to tell Financial Times about any sponsorship deals already in the works for Pokémon Go, but code within the app discovered this morning suggests a deal may have been established with McDonald's. McDonald's imagery is included in the app and the McDonald's name is listed in the app's code.

Pokémon Go
has become a
global phenomenon
since its launch last week, earning an estimated $1.6 million in daily revenue with more than 7.5 million downloads in the United States. The app received its
first update
yesterday, fixing a number of bugs and changing Google permissions that
sparked privacy concerns
.