'Pokémon Go' Gets First Update With Much-Needed Bug Fixes
Ultra popular augmented reality game Pokémon Go received its first update since its July 5 launch, introducing some much-needed bug fixes to resolve several issues Pokémon players have run into while using the app.
A major concern with Pokémon Go was the app's access to a user's full Google account when signing in through Google on an iPhone, a problem that has now been fixed. Users worried Pokémon Go developer Niantic Labs would have access to Google account information like Gmail messages, Google Drive documents, and more through its full account access, but Niantic clarified asking for full access was a mistake and that nothing more than basic profile information had been utilized.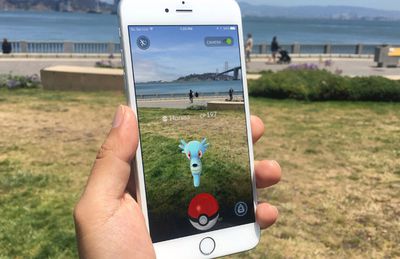 As of today's update, Pokémon Go will no longer request full access to Google accounts when a Google account is used as a sign-in option.
Niantic Labs is also introducing fixes to the log in process, which should cut down on the number of times that players have to log into the game, and there are fixes for the frequent crashes users have been experiencing. Many Pokémon Go players have noticed crashes when discovering pokémon and attempting to catch them, and today's update may fix these problems.
Thank you for your incredible response and support of Pokémon GO! We are working hard to improve the experience for everyone. This update focuses on making Pokémon GO more stable with the following improvements:

- Trainers do not to have to enter their username and password repeatedly after a force log out
- Added stability to Pokémon Trainer Club account log-in process
- Resolved issues causing crashes
- Fixed Google account scope
Since its release last week, Pokémon Go has been hugely successful, earning an estimated $1.6 million in daily revenue with approximately 7.5 million downloads in the United States alone. The game has sparked a worldwide phenomenon, garnering heavy coverage in the media and driving traffic to local businesses as players set out on foot around their neighborhoods to track down pokémon.
Pokémon Go can be downloaded from the App Store for free. [Direct Link]