Mashable today shared the inspiring story of Jordyn Castor, the 22-year-old Apple engineer who has been blind since birth and now plays a central role in improving the company's Accessibility features.
Castor was born 15 weeks early and weighed just under two pounds – small enough to be held in the palm of her grandfather's hand. She defied doctor's predictions and survived those first weeks, and has gone from strength to strength ever since.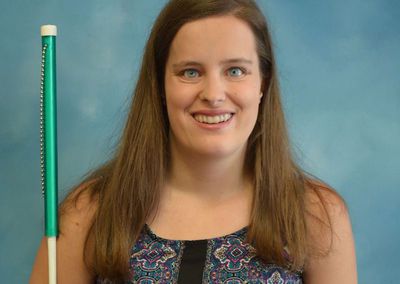 Apple engineer Jordyn Castor works on Accessibility features for the blind (Image: Apple)
A former college student at Michigan State University, tech-savvy Castor was introduced to Apple at a Minneapolis job fair in 2015, a gathering she attended nervously knowing that representatives of the Cupertino company would be there.
Castor told Apple reps how amazed she was by the iPad she had received on her 17th birthday. "Everything just worked and was accessible just right out of the box," she said. "That was something I had never experienced before."
Her passion made an immediate impression, and she was hired as an intern, with her work focusing on VoiceOver support. At the end of her internship, she won a position as an engineer on Apple's accessibility design and quality team.
Castor has since been a driving force behind accessibility, in particular on Apple's Swift Playgrounds, an introduction-to-coding program geared toward kids. She's been working to make the program accessible to blind children, who have been waiting a long time for the tool, she told Mashable.
"I would constantly get Facebook messages from so many parents of blind children, saying, 'My child wants to code so badly. Do you know of a way that they can do that?'" Castor explained. "Now, when it's released, I can say, 'Absolutely, absolutely they can start coding.'"
Sarah Herrlinger is Apple's senior manager for global accessibility policy and initiatives, and said that a notable part of the company's steps toward accessibility is its dedication to making inclusivity features standard, not specialized.
"[These features] show up on your device, regardless of if you are someone who needs them," she said. "By being built-in, they are also free. Historically, for the blind and visually impaired community, there are additional things you have to buy or things that you have to do to be able to use technology."
Apple's belief in continually improving accessibility has not gone unnoticed. On July 4, the company received the American Council of the Blind's Robert S. Bray Award for continued dedication to inclusion-based innovation for blind users.
For more on how Apple's work is benefitting the blind and low vision community, including advances coming with watchOS 3 and the continuing importance of Braille displays, be sure to check out the original article here.