Dozens of Former Apple Employees Team Up to Launch 'RearVision' Vehicle Camera
A group of three former Apple engineers, along with around 50 various designers and workers also formerly employed by Apple, have created a new startup in the vehicle accessory market, called Pearl, and today announced pre-orders on their product "RearVision." The $500 device is an attachable license plate accessory that connects via Bluetooth to an iOS or Android smartphone, displaying a 180-degree rear-view field of vision when backing up your car (via The Verge).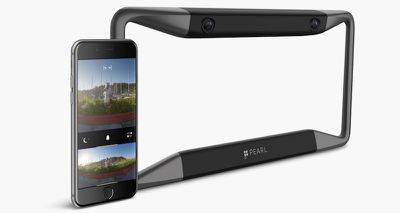 The RearVision unit comes with a dongle that connects with a vehicle's on-board diagnostic port to help communicate and determine the car's speed, and battery power isn't a concern since the device charges using an integrated solar panel. Bryan Gardner, one of the co-founders of the company, said that one full day of sun equates to an entire week of charge for the device, and the RearVision can store one month of battery in its reserves.
Otherwise, the device functions like many integrated rear-view cameras: when backing up, the device's dual-camera system automatically sends video to the connected smartphone in optional portrait view (with two levels of zoom) or landscape view. Two alternate alerts emit from the smartphone when the RearVision camera wants the user to slow down for a passerby or another car, and a more insistent sound when a collision might be imminent and the driver should stop the car completely.


Once the car is in forward motion above 10 mph, RearVision shuts off the rear-view camera and moves into a "Home Screen" section of the app. Here, users can choose their favorite and most used driving apps -- Google Maps, Apple Maps, Spotify, Apple Music, etc -- and place them in the Home Screen of RearVision's app, which is generally a launching shortcut to quickly access the designated apps while on the move.
Gardner hopes that the company's angle to support an install base of users (who have older cars without pre-installed rear-view cameras) will help promote safety in the automotive industry. The National Highway Safety Administration recently put into motion a ruling that will make all new cars launching in 2018 and beyond come with such technology ready for the user, but that still leaves a large swath of used and pre-owned vehicles without the ease-of-mind rear-view cameras can provide.
While the government can insist new cars get safer, they can't do anything about older vehicles. That is both a crisis and an opportunity. "There's about 7 percent of new car inventory that comes in the market every year. That leaves more than 90 percent of the cars are not new every year," says Bryson Gardner, Pearl's co-founder and CEO.

"We saw the entire industry focused on new cars. So we figured let's focus on the existing install base. " Gardner confirmed that the company already has other products in mind, but was coy about exactly what would come next. "If you were to go buy a Mercedes and there's a driver awareness package, all of the things in there is the most important to get into the car in the short term."
Those interested can pre-order the RearVision today for $499.99, with Pearl promising its knowledge of the Apple supply chain will help greatly in eliminating "any of the manufacturing pitfalls that have become common among small hardware startups." The company also says that set-up is simple and doesn't require anything besides a screwdriver and your smartphone. As of writing, the predicted shipping date for Pearl's RearVision camera is sometime in September.