Adobe today announced the launch of its latest Creative Cloud updates, bringing new tools and more "Adobe Magic" to a range of apps including Photoshop CC, After Effects CC, Premiere Pro CC, Illustrator CC, and more.
There are several new features available in Photoshop CC, including Content-Aware Crop, Face-Aware Liquify, and Match Font, plus a new workspace for selections and masking. Content-Aware Crop intelligently fills in the open areas when a canvas is expanded or rotated beyond the original image size, allowing for more options when editing an image to get the perfect crop or angle.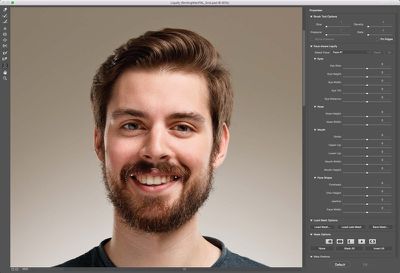 Face-Aware Liquify automatically recognizes the different elements of a face when using the liquify tool, giving users direct control over facial features like eyes, nose, and mouth for making quick artistic changes. Match Font, the final major new feature in Photoshop CC, analyzes an image to determine what font was used, bringing it up in Photoshop if it's already installed and locating it in TypeKit if it isn't previously owned.


Adobe Premiere CC includes new workflows for editing immersive VR and 360 video experiences with a "field of view" mode for working with spherical stitched video. It offers options for dynamically switching between monoscopic, stereoscopic, and anaglyph frame layouts, and there's a new workflow for editing while video and audio are still importing in the background.
After Effects CC features a new audio and video preview engine for smoother playback for cached frames plus new GPU-accelerated Gaussian Blur and Lumetri Color effects for faster rendering, while Animate CC includes enhanced brushes and improved web publishing and Illustrator CC features fast export of assets and artboards.
Adobe Stock is now able to integrate with Creative Cloud applications through a new One-Click Workflow that allows users to choose an image or video from the Adobe Stock website and open it in an app with a single click. There's also a one-click licensing feature to purchase images directly within Photoshop, Illustrator, and InDesign.


Adobe is debuting a Premium Collection for Adobe Stock, featuring close to 100,000 high-quality images from artists and photographers, and beginning in July, Creative Cloud customers will be able to upload their own images to Adobe Stock.
Across all of Adobe's Creative Cloud, there are new read-only libraries so Creative Cloud Libraries can be shared with team members for viewing purposes without giving all users the option of changing or deleting content, and all nearly apps have gained dozens of minor tweaks, bug fixes, and feature improvements.
"We have two key goals with this release: saving our customers time and helping them jumpstart their creative engines," said Bryan Lamkin, executive vice president and general manager, Digital Media at Adobe. "Every creative project starts with a blank page and ends with a vision coming to life. Today's release of Creative Cloud will help make that journey as fast and productive as possible. From deeper integration of Adobe Stock into the CC experience, to amazing new features like Content-Aware Crop in Adobe Photoshop, this release will expedite the creative process for millions of our customers."
Some of these features were previously announced by Adobe on the Adobe blog and at the National Association of Broadcasters (NAB) show, but they're launching as part of today's Creative Cloud update and should be available shortly.
Adobe offers full Creative Cloud subscriptions for $49.99 per month, and those who have not subscribed can sign up for a 30-day free trial. Adobe also offers a $9.99 photography plan with access to Lightroom and Photoshop.